Kanu's Detention: IPOB Members Go Spiritual, Begin Fasting, Prayers
Latest News, News
Friday, February 26th, 2016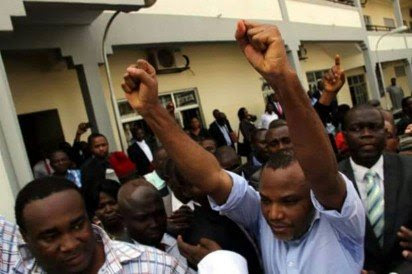 By IGNATIUS OKPARA, Awka
Over 5,000 Members of the Indigenous People of Biafra, IPOB in  Anambra State on Wednesday embarked on
Fasting and prayers exercise in its agitation for the release of their  leader and Director of Radio Biafra, Mr. Nnamdi Kanu, who is being held by security operatives.
According to them, the spiritual warfare which commenced at exactly 7am  and ended at about  3pm in parts of the state without the usual display of its flags and banners, was aimed at seeking God's intervention on the continued detention of her leader, Kanu.
The exercise they added, is equally designed to seek God's face over the  alleged intimidation, harassment, and killings of their members by security operatives.
The group in a statement issued by its Media and Publicity Officer, Mr. Emma Powerful, after the prayer at Ukpor in Nnewi South Council Area, called on religious leaders in South East Nigeria, to be prayerful for the restoration of Biafra and release of Mr. Kanu.
It reads thus: "Nigeria is dwindling to irredeemable  situation under the All Progressives Congress, APC, government of President Muhammadu Buhari.
"Biafra is the only answer to the problem Nigeria is facing now.
"The APC government is confused and the people who led Nigeria into this mess, the APC henchmen, their so called national leaders who wanted change at all cost, are now all dumb.
"They have no answer to the problems they have created,the only answer now is Biafra.
"We are not joking about this spiritual declaration, we have been praying and fasting, no bloodshed of Biafrans will go unpunished.
"The APC members who are deeply religious should go and ask questions about the consequences of the atrocities they have committed with the killing of innocent youths who were praying at Aba, innocent youths who were peacefully agitating in Onitsha whom the military killed.
"When we were taking those they shot dead to hospitals, their blood was revolting against the APC government and the party which will never know peace until they leave IPOB and other Biafra agitating groups alone".
The agitators however, urged the churches to pray ceaselessly because the people being killed are their members and children of God who were exercising their constitutional rights of peaceful protest and non violent agitation.
"We want Chukwuokike Abiama(God Almighty) to reveal the truth in the next court and to the world, for Mr. Kanu our innocent leader, to disgrace and blind the enemies of Biafra and those who want to use Biafra and Mr. Kanu to gain cheep popularity in their misguided government that is heading for the rocks"
Please follow and like us:
Short URL: http://www.africanexaminer.com/?p=30516