Kerry Arrives Egypt To Round Off Talks On Coalition Against ISIS
Latest News, World News
Saturday, September 13th, 2014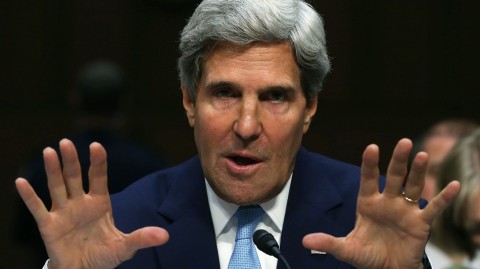 The United States (US) Secretary of State, Mr. John Kerry has finally arrived Egypt to pursue effort in forming a strong and broad coalition to confront the Islamic State  (IS) insurgents.
While in the North African country, Kerry is expected to meet with the Arab League Chief Nabil al-Arabi in Cairo to discuss update and next move on his Middle East tour and and deliberate on how to fight IS.
Kerry has included 10 Arab countries including Saudi Arabia and Qatar to form force against IS.  He however on Friday excluded the US avowed enemy, Iran which has since the beginning of the uprising indicated interest to join forces with US to oust the IS militants.
Earlier, President Barack Obama on Wednesday, announced plans for an expansion of the US campaign against IS, with the threat that the militants would be "hunt down" wherever they might be located.
Other Arab countries that have signed into the US coordinated coalition are: Egypt, Iraq, Jordan, Lebanon, Bahrain, Kuwait, Oman and the United Arab Emirates (UAE).
The CIA has revealed IS has not less than 30,000 fighters both in Syria and Iraq. It presently controls large parts of both countries. The US security mole stated the insurgents has been the target of the recent US air strikes.
Please follow and like us:
Short URL: http://www.africanexaminer.com/?p=17372