MASSOB Vows To Tackle Governor Obiano Over Killing Of Biafra Agitators
Featured, Latest News, News
Wednesday, December 23rd, 2015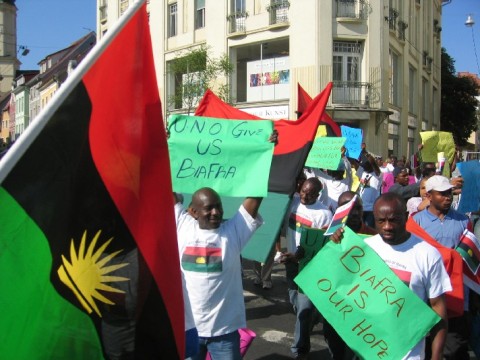 By Ignatius Okpara, Enugu
The Uchenna Madu led faction of the Movement for Actualization of Sovereign State of Biafra, (MASSOB), has vowed to hold Anambra State Governor, Willie Obiano responsible over the alleged recent killings of some pro-Biafra protesters in the State.
A statement signed by Madu and made available to newsmen in Enugu on Tuesday, accused the Governor of descending on the pro-Biafra members their peaceful rally in the state.
"MASSOB holds Governor Willie Obiano of Anambra State responsible for the killings, arrest, torture, maiming and wounding of non violent/peaceful IPOB and MASSOB members at Onitsha, who were jubilating over the news of Nnamdi Kanu's court release.
"Anambra is not the only state in Nigeria where members of the MASSOB and the IPOB demonstrated, protested or jubilated because of Nnamdi Kanu but we have not recorded any killings, harassment, massive arrest, clampdown, shootings, torture and unguarded statements by state governments in other states, except in Anambra State.
"During Governor Obiano's condolence visit to Hausa residents in Onitsha over the touching of Mosque by sponsored hoodlums, Governor Obiano sympathized with them without mentioning or commiserating with non-violent Biafran agitators killed, arrested totured and wounded by security agents.
"He tactically gave them back up to clampdown and disperse the non-violent MASSOB and IPOB members; this executive order prompted and motivated the Army to kill, maim, arrest and injure many of our members in Onitsha, including those killed on the day of jubilation."
The statement added: "Anambra is the only State in Nigeria, which derives pleasure in killing, maiming, arresting and detaining our members.
"The Governor has not condemned or commiserated with IPOB and MASSOB but has shown the Hausa /Fulani whose mosque was slightly touched commitment to their welfare.
"The history of IPOB /MASSOB struggle for Biafra will not be complete without Governor Obiano's sabotage.
It said "The same history will never forget a similar genocide against MASSOB members by Governor Peter Obi in 2006 and Achike Udenwa in 2003.
"This exhibition of inferiority complex by some Igbo Governors and political leaders is a sign of weakness as well as fear of Hausa Fulani oligarchy." the group stated.
Please follow and like us:
Short URL: http://www.africanexaminer.com/?p=28861