Military Debunks Fabricated Victory Claims By BoKo Haram, Says Terrorists' Sympathizers At Work
Latest News, News, Uncategorized
Tuesday, April 28th, 2015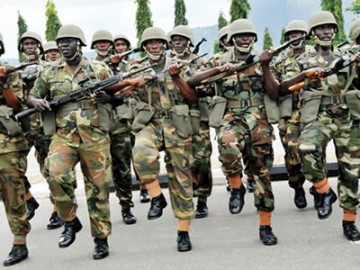 By Mustapha Abdul Salaam – The Nigerian Defence Headquarters has debunked media reports speculating that the Boko Haram terrorists are presently in control of Mafa and Marte in Borno State, North Eastern Nigeria.
The development, the Defence has indicated was an attempt by a group of fleeing terrorists who strayed towards the town and engaged in their typical suicide attack which it said "was duly repelled by troops".
In a post Tuesday on its official blog, the Military stated similar claim by some media organizations that terrorists chased out troops and took over Marte could not be verified as troops were busy elsewhere during the said onslaught.
However, the Defence confirmed that efforts to track the terrorists who were reported to have attacked the town have not indicated their presence as claimed.
"Surveillance activities are however ongoing although there has been no indication of the large number of terrorists as being claimed in some reports attributed to anonymous sources. The terrorist are certainly no longer capable of that level of coordinated action by thousands of terrorists as reported.
"Also, troops have not retreated from Sambisa forest as claimed by same sources. Rather, the operation is progressing and gaining increasing momentum towards clearing all terrorists' hideouts in the forest" the post asserted.
The Military added that it was noteworthy that it was becoming common, stories of attacks on some remote settlements to be fabricated and attributed to anonymous or unidentifiable source in remote places, insisting this was the handiwork of "terrorists' sympathizers or propagandists".
In addition, Defence pointed out that military operations to eliminate all terrorists' hideouts were underway and the terrorists were being seriously decimated, adding that the insurgents would be trailed and prevented from constituting danger to civilian population in their desperation for survival, suicide or publicity.
Meanwhile, the Military has advised the media to ignore fabrication being sent out by some terrorists' sympathizers – trying to encourage the militants who it declared were in disarray. The post however vowed that the military would not be dissuaded by the resurgence of false reports on the operations.
Please follow and like us:
Short URL: http://www.africanexaminer.com/?p=23357