Military Withdraws Soldiers Deployed Opposite Tinubu's Lagos Home
Latest News, News, Nigeria 2015 Election
Wednesday, February 11th, 2015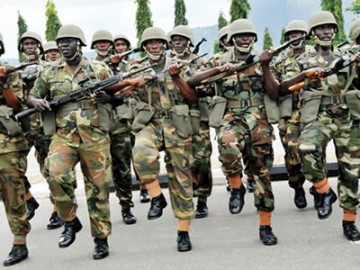 By Funmilayo Omidiji, Lagos – The Military detachment stationed opposite the Bourdillon Ikoyi residence of the opposition APC National Chieftain, Asiwaju Bola Tinubu had left late Tuesday.
The soldiers who arrived the spot since Sunday night, left apparently due to the news of the development widely reported on different local and international news media.
Till their exit and now, there was no official reason (s) given for the development. The former Lagos State Governor's media aide, Sunday Dare confirmed Wednesday, that the soldiers had left, still added his boss was not bothered and deterred.
In the meantime, the Muslim Rights Concern (MURIC) has suspected what many considered as an act of intimidation, had suspected the Presidency being responsible.
The group in a press statement Wednesday, by its Director, Professor 'Lakin Akintola which berated President Goodluck Jonathan for seeking support of the opposition leader (Tinubu) for his victory in 2011 Presidential election, denounced the misuse of soldiers by the Presidency and demanded the immediate and unconditional withdrawal of the soldiers.
Professor Akintola challenged: "President Jonathan will therefore go down in Nigerian history as the most vindictive in power. Does Shekau live in Tinubu's house? Are the Chibok girls being kept there?
"Again we recall that soldiers were used by the ruling party to arrest and detain members of the opposition during the gubernatorial elections in Ekiti and Osun States. Is the deployment of soldiers to Tinubu's residence a dress rehearsal for the same dirty, diabolical, tyrannical and unconstitutional exercise in the 2015 polls?
"The deployment of troops to Tinubu's house without any justifiable explanation is very unhealthy for democracy. It is a threat to freedom of movement. We know that election cannot be free and fair if there is no balanced playing ground for both the ruling party and the opposition.
"The rigging of elections does not necessarily occur on the day of election alone. It often starts long before the D-day. With the grounding of opposition aircrafts, with the denial of landing rights for opposition planes which are already midair, by soldiers in the home of the main opposition leader, President Jonathan has demonstrated beyond any modicum of doubt that he is not preparing for a free and fair election".
MURIC therefore demanded that Jonathan – led government must guarantee the safety of Tinubu and other leaders of the APC as well as leaders of all other political parties.
It also charged Nigerians to remain vigilant, be resolute but peaceful and law-abiding; stressing that there was no retreat, no surrender, while effort would be made to resist intimidation.
MURIC alerted foreign embassies in Nigeria to keenly watch the unfolding spectacle as well as draw the attention of the international community, particularly the African Union (AU) and Nigeria's immediate neighbours in West Africa to the dangerous game of using soldiers to silence the opposition.
No fewer than 30 soldiers were detached to Bourdillon, Ikoyi and stationed in front of Tinubu's residence Sunday evening.
Please follow and like us:
Short URL: http://www.africanexaminer.com/?p=22209