Ministerial Screening: Ethics Committee Submits Report As Amaechi , Aisha Abubakar Face Senate Screening
Featured, Latest News, News
Monday, October 19th, 2015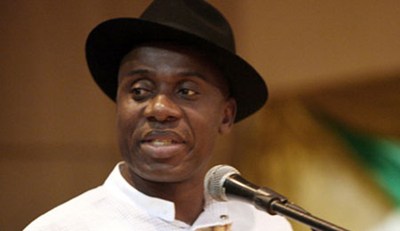 Ayodele Afolabi, Abuja

BALTIMORE, MD (AFRICAN EXAMINER) – As senate resumes plenary session Today (Tuesday), strong indications emerged that Rotimi Amaechi and Aisha Abubakar who have petitions against them, will be screened.

This followed positive reports, that the Senate Committee on Ethics, Privileges and Public Petitions is set to present before the senate Tuesday morning reports on petitions written against them by their petitioners from Rivers and Sokoto state respectively.

While the committee is setting aside the petitions written against Amaechi by Port Harcourt based Integrity Group, in its report on the grounds of issues raised  therein already in the court of law, is throwing out, out rightly , the  one written against Aisha Abubakar by concerned Sokoto women on the grounds of being routed through wrong channels.

Aisha who faced the senate committee on Monday  on petition written against her by sokoto women, got a clean bill of health from all the committee members who all said the petition should not be treated for only being copied to the Senate President, Bukola Saraki, and not directly addressed to him.

First to raise the issue was senator Obinna Ogba Joshua ( PDP Ebonyi Central) who pointed out that the petition was addressed directly to President Muhammadu Buhari and not the Senate President which according to him, contravenes rule 41(5a) of the senate standing order.

Other members of the committee like Senators Dino Melaye ( APC Kogi West), Jerry Useni ( PDP Plateau South), Binta Garba Mashi (APC Adamawa North) and Wale Omogunwa ( PDP Ondo South), concurred to Obinna's submission by urging the committee chairman to disregard the petition in its entirety for being wrongly addressed.

Senator Melaye in particular said since the petition was directly addressed to President Buhari and not the Senate President, the committee should consider it as dead on arrival .

He added that another procedural defect in the petition was the rules of letter writing the petitioners did not follow.

According to him, a petition supposed to be signed by petitioners before copying other interested parties and not copying before signing, saying "going by all these identified blunders , the petition is more or less, a wishy washy one which should not be treated in anyway by the committee but rather dumped  into the trash can.

"But the Chairman of the committee, Sam Anyanwu ( PDP Imo East) before giving Aisha Abubakar clean bill of health, asked her two questions on fundamental issues raised against her in the petition.

He asked whether she 's an indigene of Sokoto state or not , to which she answered yes by saying she is a native of Dogondaji town in Tambuwal local government.

On whether she belongs to any political party, she said no , being a serving public officer.

Briefing journalists later on the two reports, the committee Chairman, said they are very straightforward and are already for submission on the floor of the senate today.'

Our reports on petitions against  Amaechi and Aisha Abubakar are ready and will be laid before the senate tomorrow( today) , to pave way for thief screening", he said.
Please follow and like us:
Short URL: http://www.africanexaminer.com/?p=26559