Missing Budget: Saraki Vows Upper Chamber Will Not Consider Altered Version
Featured, Latest News, News
Thursday, January 14th, 2016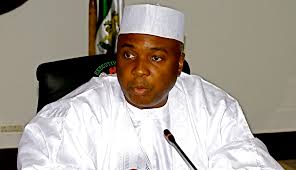 By Ganiyu Nasirudeen
In what looks like a direct admittance of the earlier allegation over the missing of 2016 proposed budget, from the upper Legislative Chamber, the Senate Thursday declared it will not honour any other version of the financial bill, except the one presented to the joint session of the National Assembly (NASS) in December 2015, by President Muhammadu Buhari.
Reacting after the presentation of the ad-hoc committee set up Wednesday to search for, and investigate the alleged missing, Senate President, Bukola Saraki vowed that the blue Chamber would accept only the version presented by Mr. President on December 22, as the committee submitted that another version of the proposed budget has emanated through the Senior Special Assistant to the President on National Assembly Matters (Senate), former Senator Ita Enang.
Saraki subsequently informed that the upper Chamber would commence consideration of the 2016 Appropriation Bill Tuesday, January 19, 2016.
NASS Chairman however maintained that if the Presidency desired to amend the initial version of the bill, there were proper Legislative channels to adopt, not the alleged backdoor.
The missing budget speculation has been trailed by conflicting reactions from different NASS Leadership. For instance, Speaker of the House of Representatives, Rt. Hon. Yakubu Dogara and Chairman, Senate Committee on Media and Public Affairs, Aliyu Sabi Abdullahi Wednesday denied that the budget was missing.
Also, the Senior Special Assistant to President Buhari on Media and Publicity, Garba Shehu also Tuesday, distanced the Presidency from the missing drama.
It would be recalled Senator Eyinaya Abaribe Wednesday raised at the plenary, a point of order, seeking for clarification on the allegation. This order was sustained, prompting Saraki to set up the committee for search of the document and directed it to get back to the Chamber today (Thursday).
Meanwhile, the Presidential aide, Enang has reacted that he would not make any comment on the allegation that he made available to the Senate, the altered version of the proposed budget.
He has reportedly said the matter is a very sensitive one and in between his two superiors, referring to President Buhari and Saraki, being a former member of the upper Legislative Chamber.
Please follow and like us:
Short URL: http://www.africanexaminer.com/?p=29442