Motor Park Bloody Clash Claims 2 Lives In Onitsha, Injures Many
Latest News, News From The State, Uncategorized
Friday, February 21st, 2014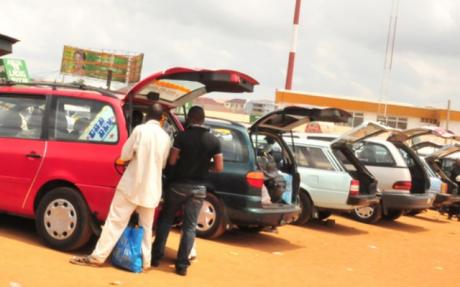 IGNATIUS  OKPARA, ONITSHA
Two people were on Friday send to their untimely graves, just as several others sustained various degrees of injuries, following a free for- all- fight staged by two factions of motor park touts in Onitsha.
The bloody clash which took place at the Aba central park, upper Iweka Onitsha, Anambra state was between the notorious group called  Ndi Ukwu Aziza and Ndi Ukwuotosi.
Our correspondent gathered that the mini war ensued after the two groups had serious disagreement over who control the park.
Both factions, had during the clash, which threw the entire commercial city into pandemonium, wielded assorted dangerous weapons including firearms.
At least, 27 persons including travellers and motorists were alleged to have sustained serious injuries during the deadly battle, which also halted commercial and social activities in the city for several hours.
Though, the Police authority in Anambra had swiftly denied any casualty during the clash, but African Examiner was told by an eyewitness, that two people lost their lives during the encounter.
However, when our correspondent who was on his way back from Asaba, visited the scene shortly after the clash, the ever-busy upper Iweka, axis looked deserted, as people stayed away from the area for fear of uncertainty.
However, according to one of the victims, who identified himself as, Chinedu Anyigor, and a loader at the market, who hails from Ebonyi state said the ugly incident occurred because a group of touts known as Ndi Ukwu Aziza allegedly recruited from Ogbaru Youths by the manager of the Aba Park, mr. Ifeanyi Okafor,were relieved of the job, following alleged illegal and criminal activities.
He said, the group was in charge of collecting revenue from the park until when their activities became unbearable, and they were asked to leave the park and another group, Ndi Ukwu Otosi, took over the job.
The first group who were sacked according to him, stormed the park yesterday and started unleashing trouble on the people and in the process, they shot about two persons dead.
Anyigor also disclosed that during the clash between Ndi Ukwu Aziza and Ndi Ukwu Otosi, property worth several millions of naira were lost, while calling on the security agencies and Anambra state government to intervene in the matter so as to restore law and order in the parks.
Mr Bejamin Wordu, the Area Commander in Onitsha, confirmed the incident and disclosed that the command immediately deployed team of policemen to restore peace and order in the commercial city of Onitsha and its environs, just as he confirmed arrest of some of the suspects.
Please follow and like us:
Short URL: http://www.africanexaminer.com/?p=8547