Mutiny: Court Martial Sentences 12 soldiers To Death; Gives 28 Days Jail Term To One
Crime Watch, Featured, Latest News, News
Tuesday, September 16th, 2014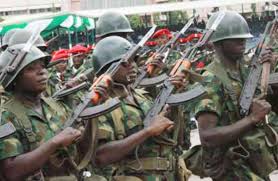 Ganiyu Nasirudeen
Thirteen of the 18 soldiers  being court martial in Abuja over mutiny for an attempt on the life of General Officer Commanding (GOC), Major General Ahmed Mohmammed in Maiduguri, the Borno State capital in May this year, have been sentenced to death.
While giving the judgement, the court martial President, Major General C. Okonkwo, stated out of the accused 13 soldiers, 12 were in the end found guilty and convicted for three of the most serious charged offences.
Consequently, the soldiers were sentenced to death. However, five accused soldiers were discharged and acquitted of the charged offences while the remaining one of the accused, Jeremiah Echocho, was given a 28 days jail term plus hard labour.
The list of the sentenced soldiers by the martial included: officers Jasper Braidolor, David Musa, Friday Onuh, Yusuf Shuaibu, Igonmu Emmanuel, Andrew Ugbede, Nurudeen Ahmed, Ifeanyi Alukagba, Alao Samuel, Amadi Chukwuma, Alan Linus, and Stephen Clement.
The military court also aquitted David Robert, Mohammed Sani, Iseh Ubong, Sebastine Gwaba and Naaman Samuel.
The 13 accused were guilty of conspiracy – mutiny, an attempt to shoot their GOC vehicle and offences including insubordination to a specific  order, insubordination as well as false accusation.
Pleas and defence by counsels to the convicted on various weighty factors were declined especially on the fear of sheer abuse to rule of the law, hence the conviction and jail term announced by the martial.
Findings indicated that the criminal actions by the soldiers were informed by communication gap between them and the GOC, lack of trust and loyalty.
Another factor was complaint by the officers over inadequate allowances, food supply, arms and ammunition to fight the insurgents.
The 7 Division of Nigerian Army, has its headquarters at Maimalari Cantonment, in Borno state.
Please follow and like us:
Short URL: http://www.africanexaminer.com/?p=17488