Neither Jonathan, Nor Buhari Will Be President In 2015, Another Southeast Prophet Predicts
Featured, Latest News
Tuesday, January 13th, 2015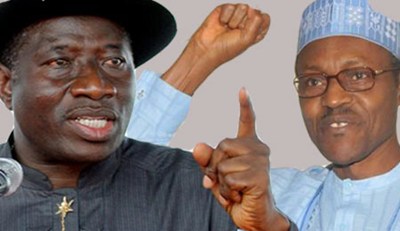 From Ignatius Okpara, Enugu – Just like the controversial Catholic Bishop Rev. Father Mbaka, an Enugu-based prophet, Anthony Nwoko has predicted that neither President Goodluck Jonathan nor his main opponent, Gen. Muhammad Buhari will be president after next month general election.
Nwoko had in 1993 prophesied the end of the regime of ex- military president, Gen. Ibrahim Babangida(rtd), which came to past.
Prophet Nwoko, who had also in 1998 prophesied that late military ruler, Gen. Sani Abacha would leave governance of Nigeria in a mysterious way, lamented the speed at which Nigeria, was turning into an ungodly nation.
Hear him: "I had told IBB in 1993 to leave office and it happened and in 1998, I prophesied that Abacha would leave office mysteriously, and you saw what happened".
The prophet stated this on Monday in Enugu, during a media briefing on the state of the nation.
Commenting on the current Jonathan presidency and the prospects of his reelection, Nwoko said, "In 2010, I told Nigerians that they should not expect much or any miracle from Jonathan.
"Now, in this coming election, Jonathan will only serve as John the Baptist and Buhari has not got any heavenly crown to rule and he will not rule this country because he hasn't got that crown.
"Don't take my prophesies for granted because I had also told Gen. Abdulsalam Abubakar not to make Obasanjo president and I had also warned Gen. Obasanjo not to make late former President Yar'Adua president and my advice was not heeded and you saw what happened", he pointed out.
Asked what would happen since he has prophesied that the two leading presidential candidates would not be president after February elections, the 64- year old prophet vacillated, saying that "I can see the glory of Nigeria in the South East and I don't agree with Wole Soyinka that Jonathan is Nebucadnezar; Jonathan is a forerunner to the glory of God".
On the controversy recently sparked-off by a message delivered by the fiery Enugu Catholic priest Rev. Fr. Ejike Mabaka, on president Goodluck,s re-election, Nwoko. Said he was not condemning the priest but "I want to tell him that I can see the glory of God in the South."
The prophet said he is not married even at his advanced age of 64 and that he has no home of his own and has not set his feet on the soil of his Umuahia country home in Abia state in the past 45 years.
He said would only visit Umuahia after accomplishing the prophetic task for which he was called home from America by God decades ago.
Please follow and like us:
Short URL: http://www.africanexaminer.com/?p=21584