Obama Grieves Over Journalist Beheading; Vows Justice Will Be Done
Featured, Latest News, World News
Wednesday, September 3rd, 2014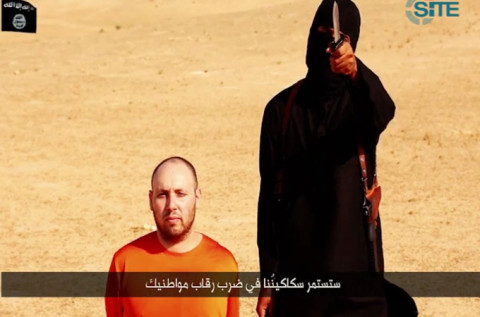 Following the release by the Islamic State Militants (ISIS) video of gruesome kiliing of yet another American Journalist, Steven Sotloff, the United States (US) President, Barack Obama has maintained the country will not be intimidated by beheading trend.
Obama asserted that the country had wide network and the wherewithal to dispense justice in the long run.
President Obama while speaking in Estonia, said such manner of kiling was a "horrific act of violence and we cannot begin to imagine the agony everyone who loves Steven is feeling right now. Our country grieves with them".
Obama contended that the killers of the journalist had failed in whatever was the reason for the dastardly act, saying the Americans were "repulsed" by their barbaric action.
He pointed out that the the country's strategy would ensure ISIS  did not constitute threat to the region.
The United Kingdom (UK) Prime Minister David Cameron has described the latest and former beheading as "utterly abhorrent and barbaric", adding that the country would not leave anything to chances in fight against terrorism.
The latest development has however prompted UK to convene an emergency meeting of its Cobra committee after watching threats to kill a British hostage who was shown alongside the alleged latest casualty in the same video clip.
In the meantime, the US National Security Council spokesperson Caitlin Hayden has confirmed  the scene in the video was not fake but "authentic".
It would be recalled the gory video footage of beheading of another US journalist, James Foley last month, was released by ISIS.
Please follow and like us:
Short URL: http://www.africanexaminer.com/?p=16964