Obanikoro Knows Fate Next Week As Senate Screens Four Ministerial Nominees
Featured, Latest News, Nigeria 2015 Election
Wednesday, March 4th, 2015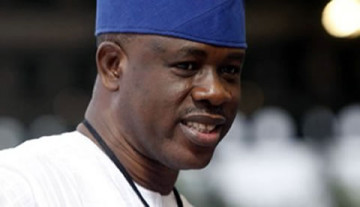 Ayodele Afolabi, Abuja – Senate on Wednesday screened four out of the eight ministerial nominees forwarded to it by President Jonathan last month.
The screening of the four nominees namely Senator Patricia Akwashiki (Nasarawa State), Professor Nicholas Akise Ada (Benue State), Col Augustine Akobundu (Abia State) and Engineer Fidelis Nwankwo (Ebonyi State), came after the Senate rose from about two hours of closed door session it had before commencement of plenary.
Although the Senate President, David Mark said the issues of national interests were discussed at the closed session by the Senators but sources among the lawmakers said that strong opposition against consideration of former Minister of State for Defence, Musiliu Obanikoro's nomination by senators belonging to the All Progressives Congress (APC), dominated discussion at the session.
The APC Senators had at a media briefing last week vowed to stop the senate from screening the nominee from Lagos State, Musiliu Obanikoro for reappointment as a Minister of the Federal Republic of Nigeria   based on his alleged bad antecedents.
The spokesman of the group, Babafemi Ojudu (APC Ekiti Central), said: "It is our position that the former Minister of State for Defence, Musiliu Obanikoro is not qualified to hold public office like Minister of the Federal Republic of Nigeria again in view of revelations linking him to Ekiti election rigging in August last year apart from the case of dual citizenship being leveled against him.
"We are going to oppose him and already, the entire three senators from Lagos state have written to the Senate President on our opposition to his screening let alone, confirmation by the Senate.
"He is not qualified to hold public office based on his bad antecedents the strength of which a case had been filed against him by two members of his party, (PDP) in a Lagos High Court with hearing already fixed for March 6 , 2015 , and under our rules , when a case is before a court of law, the president is expected to use his power to ensure that it is not brought before the senate
".Infact , sources at the closed door session disclosed that the fact the said case against Obanikoro will be heard at a Lagos High Court tomorrow, made the Senate Leadership to concur with the argument of the APC senators by deferring Obanikoro's screening to Wednesday next week along with the remaining three others.
Others affected by the deferment are Mrs Hauwa'u Lawan from Jigawa State, Mr Kenneth Kobani from Rivers and Senator Joel Danlami Ikenya from Taraba State.
However the embattled Obanikoro looked unruffled by the Senate's decision as he was later seen moving from one senator's office to the other and exchanging banters with them.
Confirmations of the already screened ministerial nominees as Ministers of the Federal Republic of Nigeria, were also deferred till next week.
Please follow and like us:
Short URL: http://www.africanexaminer.com/?p=22519