Ohaneze Demands Release Of Biafra Radio Director, Nnamdi Kanu
Featured, Latest News, News
Tuesday, December 1st, 2015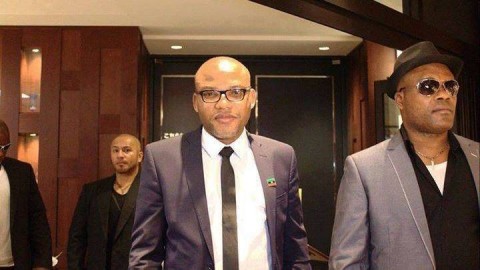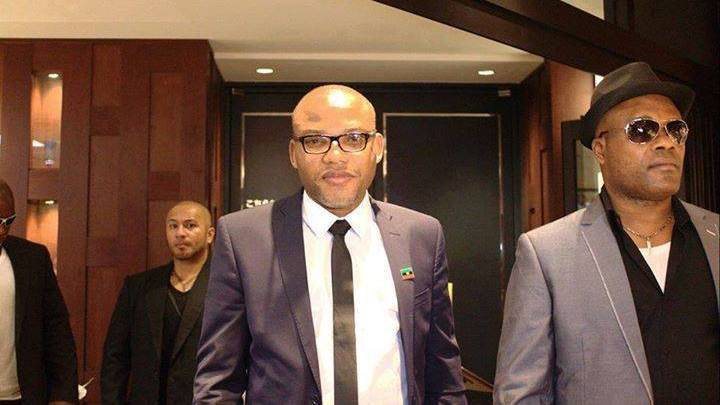 By Ignatius Okpara, Enugu
After much pressure from different quarters, the umbrella body of the Igbo nation, Ohaneze Ndigbo, has demanded the release of promoter of Radio Biafra, Nnamdi Kanu, promising he would end the ongoing protests by his supporters.
In a communiqué made available to newsmen after their (Imeobi), caucus meeting in Enugu, the body expressed concern over the current widespread protest by the Biafra agitators.
It stressed that Kanu's release, which has been the focal point of the public protests, would assuage the protesters if he was set free.
The body stated that the agitations and protests have become exacerbated by the detention of Kanu, expressing the fear that the development may threaten the security and peaceful co-existence of Nigerians wherever they may be domiciled if not tackled.
The communique signed by Ohaneze President General, Chief Gary Enwo-Igariwey
and Secretary General, Dr Joe Nworgu obtained by AFRICAN EXAMINER Monday, read in parts: "The Imeobi Ohanaeze strongly deprecates any attempt to drag the current grave situation and public expression of Ndigbo over their exclusion from the Nigerian nation into the realm of partisan politics and warns all those who may be so inclined that they shall bear the full consequences of their actions.
"The Imeobi Ohanaeze Ndigbo notes that Ndigbo are nation-builders who are found in all parts of Nigeria and cautions that all actions and activities which threaten the security and harmonious co-existence of all Nigerians whatever they may be domiciled is dangerous and must not be encouraged.
"In particular, the Imeobi believes that current public protest, how peaceful is disruptive of the market economy of the South-East zone and strongly recommends that they be discontinued immediately in favour of dialogue and constructive engagement in the resolution of the underlying issues".
The communique further recommended the immediate creation of an ad-hoc national platform that shall address immediate causes that have triggered the present public protests, and revisit and redress latent and long standing issues that have continued to threaten the evolution of Nigeria into a modern and united nation where all constituent parts have an equal sense of belonging.
As a way of solving the socio –economic problems bedeviling parts of the country, especially the South-East and South-South youths, the Ohanaeze called on Governors of the two regions to create massive employment opportunities for the youths to ameliorate the restive situation.
It also renewed her stand on the 2014 CONFAB document for any discourse in the country, even as it appreciated all those calling for caution in handling the issue of Biafran agitators.
Please follow and like us:
Short URL: http://www.africanexaminer.com/?p=28089