Opinion: The 'Buhariazation' of Nigeria
Articles/Opinion, Latest News
Sunday, May 17th, 2015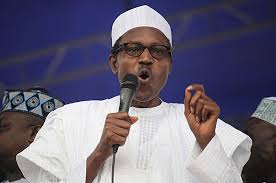 By Muhammad Ajah – I always feel enthused with the words of the executive governor of Imo state, Chief Owelle Rochas Okorocha about the President-Elect, General Muhammadu Buhari, GCFR. Chief Rochas was the first to name GMB the Igbo name Okechukwu. This is a name that is highly favoured and jealously guarded in Igbo land. The name is made of two words: Oke, meaning an allocation or generally a gift. Chukwu is God/Allah. Simply, Okechukwu means God's Allocation or God's Gift.
If it were to be translated to Arabic language, Okechukwu would mean 'Hibatul-Lah' or 'Dhaadul-Lah', meaning, 'A provision from Allah'. Buhari'a' in some Igbo dialect simply means 'to turn around'. 'Turn around' is a phrasal verb which denotes changing a situation from the present condition – usually bad – to a better condition. Chief Okorocha observed at the Presidential campaign rally of the All Progressives Congress (APC) at Owerri, the Imo state capital that Nigeria was direly in need of 'Buhariazation'. He said, 'K'anyi Buharia or Bugaria Nigeria', meaning, 'Let us turn around Nigeria'. So, the 'Buhariazation' of Nigeria means the turning around of Nigeria from its present deplorable condition to the better.
The attachment of the Imo state government to a united Nigeria has misled some Igbo people to call him a "mallam" or whatever name. That is by the way. It is their feeling that Rochas supports Muslims and uplifts Islamic activities. No Muslim, to best of my knowledge, called former and incumbent Presidents, Chief Olusegun Obasanjo and Dr. Goodluck Ebele Jonathan a Bishop, a Reverend Father or a Pastor for their unprecedented massive political and socio-economic empowerment of the Northern Christian minority during their regimes. No Muslim has ever referred to as Pastor those Northern Muslim Governors who have allowed the Northern Christian minority to be appointed in this country as Ministers, Director General of Federal Government agencies, Chairmen of Boards, ambassadors of Nigeria to many foreign missions, and even deputy governors and local government chairmen in their respective states. Rochas has NOT been of any additional advantage to the
Muslims of Imo state or South East more than the political freedom and recognition the Igbo/Northern minority Christians have enjoyed in their respective birth/business places in the north. Investigations have shown that most alleged religious wars in the north were often stage-managed, not by the government and not to marginalize the Northern Christian minority.
Let us be sincere and face the reality. In core Northern states of Nigeria, there have been Christian governors, deputy governors, commissioners, local government chairmen. Think of any appointive political position at the federal level. Think of any socio-economic empowerment programme. Think of relevance in the country. Northern Christians have had it better. So, on what grounds would any person call governor Rochas a 'mallam'. Is it because he does not sponsor pilgrims to Saudi Arabia, just as he doesn't for Christians? Or because he cannot find any Muslim of Igbo extraction in his state worthy/qualified for appointment into his government? Or because he has refused to demolish the Mosque where Muslims worship? Or because he strongly believes in the 'Buhariazation' of Nigeria? Let there be peace and understanding in this country!
Rochas, I am though confidently assured, is just interested in the entity called Nigeria. I do not believe that he has been a religious bigot. I am surprised that any Igbo man can talk of the governor in such bad manner despite what he has done for the Igbo nation. His philanthropic gesture permeates the length and breadth of Nigeria. He has done for Imo what no governor – democratic or civilian – has attempted to do. The fruitless attempt by Hon. Emeka Ihedioha to unseat Governor Okorocha was anything to reckon with. Imolites would not have had it better. In short, it is good men who have strong rivalry from the evil circle. Evil conquers only evil. And the truth must prevail, however long. Let the Igbo see the wisdom in Rochas' stride and preoccupation for Nigeria's unity, peace and progress.
Lest I forget my topic of discussion, the name Buhari is very splendid in the history of Islam which GMB belongs. I wonder what was really in the minds of GMB's father when he carefully chose this name for his son. According to Islamic culture, the choice of nice and befitting name is one of the fundamental rights of a child (male or female) upon the parents. Muhammad is simply the best name in the heavens and on the earth. Muhammad means 'Praiseworthy.' This is a very common name that Muslims bear. And according to a Hadith of Prophet Muhammad, the best names are those which denote submission to Allah or the praiseworthy. 'What is in a name', philosophers would ask.
I know of many, at least I have two friends – excluding the President-Elect – whose names are Buhari. In the history of Islam, Sheikh Imam Muhammad Bukhari was an epitome of forbearance and perseverance. He was a symbol of focus and unwavering star in the search for knowledge, not for himself but for posterity. He was a pictogram of dexterity, a colossus in creativity and determination in life. Sheikh Buhari would travel months on the back of a camel to a very far place in order to confirm the validity and correctness of a single (just one) tradition of Prophet Muhammad. He did what he did for the entire Muslim Ummah, as a guard against the period when confusion and attempts would arise to trivialize the Prophet's tradition by the posterity. He brought sanity, stability and balance in the history of the collection of Prophet Muhammad's authentic deeds and sayings.
Muhammad Buhari is the name of redemption, the long awaited savior for Nigerians. Howbeit, the turning around of Nigerian socio-economic status is not going to be easy due to the huge decay the immediate past governments have infested on the nation and its people. It is going to be with hard policies that must be endured awhile by the citizens. But the Buhariazation of Nigeria has come to stay and succeed. By the first day Nigeria will be in the total control of GMB, say from 30th May, 2015, the heavens will rejoice and the dwellers of this tiny piece of land on earth will begin to feel the joy a child derives from being between the warm arms of its mother.
By the end of the 2015 general elections, Nigerians have invented new loan words, phrases and customized sentences. It is left for the reviewers of the English dictionaries to find places for these inventions. Examples are: Buhariazation/Buharism, Jegalize/Jegalization, Nyakoic Fintirism, 'I wrote it (Rivers elections results) myself', 'We cannot continue', 'Orubebeic cynicism/hooliganism'. You can remember more; more can still be invested before the final handover on May 29, 2015.
Muhammad Ajah is a writer, author, advocate of humanity and good governance based in Abuja E-mail: mobahawwah@yahoo.co.uk
Please follow and like us:
Short URL: http://www.africanexaminer.com/?p=23560