Oregon Governor Performs CPR On Drugged Woman
Trending Stories
Wednesday, May 7th, 2014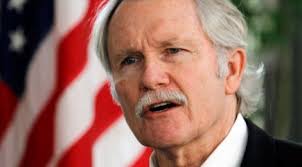 Mona Ogbeidi
Oregon Gov. John Kitzhaber, on Tuesday performed CPR on a dying woman from a seeming heroin overdose, likely saving the woman's life.
According to reports, Kitzhaber who was being driven, on his way to dinner in downtown Portland on Monday night, spotted someone along the edge of the street who seemed to be attempting to resuscitate a woman lying on the ground,
Kitzhaber, a former emergency room doctor, ordered his driver to pull over and told his security team to call 911; getting off his car to help the woman, who wasn't breathing and performed CPR on her. More than two minutes later, paramedics arrived and used a defibrillator to revive the woman.
According to Lt. Rich Chatman of the Portland Fire Bureau, CPR has to be administered within six minutes of a person's heart stopping.
The woman, whose name was not disclosed, was taken to a local hospital and will likely survive.
Please follow and like us:
Short URL: http://www.africanexaminer.com/?p=10956