Panama Leaked Papers: Saraki Claims He Fully Complied with Law on Asset Declaration
Featured, Latest News, News
Monday, April 4th, 2016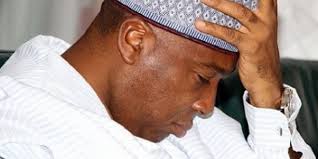 Ayodele Afolabi,  Abuja
BALTIMORE, MD (AFRICAN EXAMINER) – Senate President, Bukola Saraki on Monday reacted to  the leaked documents of the Panama-based offshore law firm, Mossack Fonseca claiming he has fully complied with the provisions of the law on declaration of assets by public officers.
Leaked documents of  the Panama-based offshore firm, Mossack Fonseca and shared by the International Consortium of Investigative Journalists (ICIJ) stated that Saraki failed to declare assets belonging to his wife, Mrs Toyin Saraki, in secret offshore territories.
But in a reaction by his Adviser on Media, Saraki exonerated himself of any wrongdoing arguing that he has in his different asset declarations included properties owned individually by himself and his wife.
He added that the property in question forms part of his wife's family asset.
"Furthermore, the law only requires a public officer to declare both his own assets and those held by his spouse and his children under 18 years of age. The law does not require a public officer to declare assets held by the spouse's family.
"It is not expected by the law that a public officer should declare such assets held in the spouse's family estate. Indeed, the Code of Conduct form does not make provision for declaration of spouse's family assets", he stated.
Saraki has been standing trial in Nigeria before the Code of Conduct Tribunal over false assets declaration.
The Panama leaked papers indicted over 140 politicians across the world, including ex-Delta governor James Ibori and the Nigeria's current Senate President, Bukola Saraki.
The leak among other things, exposed the offshore holdings of 12 current and former world leaders and revealed how associates of Russian President Vladimir Putin secretly shuffled as much as $2 billion through banks and shadow companies.
Reports say the Mossack Fonseca's operations are diverse and international in scope helping foreigners set up Panamanian shell companies to hold financial assets while concealing the identities of their real owners.
Since its establishment in 1977, the firm has expanded its interests outside of Panama to include more than 40 offices worldwide, helping a global client base work with shell companies not just in Panama but also the Bahamas, the British Virgin Islands, and other notorious tax havens around the world.
Please follow and like us:
Short URL: http://www.africanexaminer.com/?p=31534