Paris Killing: President Hollande Vows To Bring Down Dreaded IS
Featured, Latest News, World News
Monday, November 16th, 2015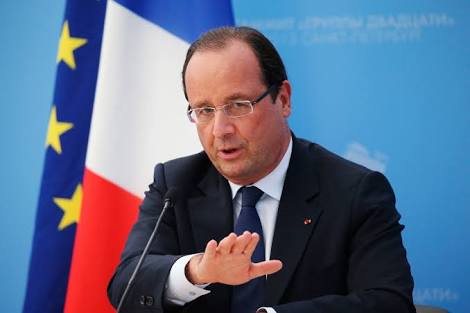 France President Francois Hollande has vowed to bring down the dreaded IS group. The terrorists' group claimed responsibility for the bloody attack which killed over 100 people last Friday in Paris.
In line with his resolve, President Hollande announced that he would present a bill to extend the state of emergency to be declared after the attacks for three months as well as suggest amendment to the country's constitution.
He added that the France's military campaign against IS in Iraq and Syria would be stepped up.
In admitting the weekend's attack, the IS affirmed that it carried out the onslaught on bars, restaurants, a concert hall and a stadium in which a total of 129 people were killed.
At a joint session of the French two houses of Parliament, Hollande restated that the constitution needed to be amended, while there was need for an appropriate tool, which could be used "without having to resort to the state of emergency".
The President disclosed further that he would meet with the US President Barack Obama and his Russian counterpart, Vladimir Putin in the coming days to discuss action against the IS.
Already, President Hollande has promised more resources for the security forces and confirmed that the Charles de Gaulle aircraft carrier would be sent on Thursday to reinforce the military offensive against the IS.
On Monday morning, France security operatives arrested a total of 23 people while weapons were seized in a series of raids on suspected militants across the country. This is beside the arrest of two other suspects made Saturday by the Belgian Police. The suspects were detained with others last weekend.
However, five suspects including Mohammed Abdeslam, the brother of two suspects – Brahim Abdeslam, killed during the attacks, were released, but Salah Abdeslam, is at large.
Also on Monday, France organized a nationwide one-minute of silence at Midday local time (11:00 GMT) in honour of the victims. The President led his silence honour from the Sorbonne University, which signified that some of the victims were of young age bracket.
Following the attack, social and commercial activities have remained at low pace, apparently to mourn and give last respect to the victims and identify with their families.
Please follow and like us:
Short URL: http://www.africanexaminer.com/?p=27538