PDP Dissociates Self From Fayose's Death-Wish-Advert
Featured, Latest News, Nigeria 2015 Election
Wednesday, January 21st, 2015
*Says, "Age Is Not A Function Of How Long You Will Live"
By Ayo Afolabi, Abuja-The PDP presidential campaign organisation has dissociated itself from the controversial death wish advert sponsored by the Ekiti state governor, Mr. Ayo Fayose.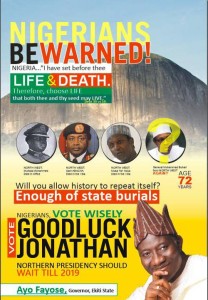 Speaking on Tuesday in Abuja about the advert, the Director of Media and Publicity of the organisation, Femi Fani-Kayode, said the advertorial does not represent the views and opinions of both the organization and President Goodluck Jonathan.
"Governor Ayo Fayose is a distinguished leader of our party. A democratically elected governor but he released this advert in his own name. That represents his own personal opinion, which he is entitled to. What I can tell you on our part as the presidential campaign organisation is, that does not represent the opinion of the campaign organisation or indeed that of the President.
"If we wanted to say something like that we will say it without any kind of apology but of course we will never say that because we believe in the sanctity of life. Age is not a function of how long you will live. It is important that we recognize the fact that age is not an indication of how long somebody will live.
"We believe strongly that we must continue to show immense respect for the person of Gen. Buhari in terms of his person and his health," said Fani-Kayode.
Meanwhile, in a statement issued yesterday, Governor Fayose insisted that he has no regret placing the death-wish-advert but offered explanation why he chose to place the controversial advertorial.
"My consideration for the advertorial in the midst of alleged ill health of the late president is the need for the nation not to forget the crisis we were thrown into in 2010 but saved by the National Assembly which had to invoked the Doctrine of Necessity after protests by the Save Nigeria Group (SNG).
"It is in defence of fairness that I called attention to the potential crisis we may face God forbid that the health of the general becomes a hindrance if he was president and his Vice who is from the South West would have to step into the saddle." He said
In the controversial advert titled, Nigerians: Be Warned! Life And Death, published on the front pages of selected national dailies. Fayose paraded three pictures of Late former Northern Nigerian leaders – late Gen. Muritala Muhammad; Gen Sanni Abacha and Umaru Musa Yar'adua and followed with the picture of General Buhari with a question mark and additional highlighted message that says "enough of state burial." Many Nigerians have condemned the advertorial describing it as distasteful.
Please follow and like us:
Short URL: http://www.africanexaminer.com/?p=21766