Plateau APC Governorship Candidate Accuses Governor Jang Of Lawlessness
Latest News, News, Nigeria 2015 Election
Friday, March 6th, 2015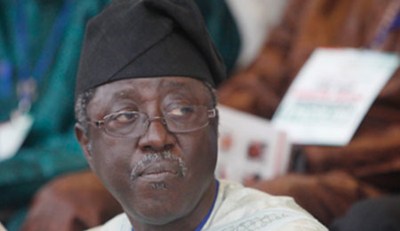 Agabus Pwanagba-Jos

, The Plateau State opposition All Progressive Congress (APC) gubernatorial candidate in the coming elections, Barr. Simon Lalong has accused the Jonah Jang administration of failing to accord both the legislative and judiciary arms of Government their independence and disregard to the rule of law.
Lalong stated this during an interactive session with the State's stakeholders in the Justice sector, Friday in Jos, the State capital.
He lamented:  "The Executive arm of Government in Plateau State has failed to accord the two other arms of government, its independence or obey the rule of law.
"It has been a total breakdown of principle and spirit of separation of powers.
"For the first time in Plateau State, the Executive acting through the son of the Governor instituted an action against the House of Assembly seeking to prevent the House from carrying out its oversight functions on the SURE-P funds meant for the State. This shows the degrading state of Plateau. Where governance has been reduced to family tea party".
"By Executive fiat, the Government of Governor Jonah Jang repealed Districts and Chiefdoms created by law. Not even the judgments of courts challenging the verbal abrogation of the Chiefdoms and Districts have made government reversed its position on the issue.
"For the first time in our history as a people, even after the judgments of appeal tribunal, Governor Jang had never sworn in persons returned as elected by the decisions of Tribunal voluntarily. Examples are- Wase, Langtang North and Mikang Local Government Councils which were only inaugurated few months to the end of their tenures.
"Embarrassingly, judges and members of tribunals and appeal tribunals have been sued for performing their judicial acts. Judges were sued by way of originating summons or certiorari only because they ruled against the interest of the government" bemoaned the opposition candidate.
Lalong assured the stakeholders said: "Judgments of courts will be complied with. Once we exhaust the procedures provided by law, government will comply with the orders of the courts.
He added his administration if elected, would ensure financial autonomy for the judiciary as prescribed by the constitution.
Please follow and like us:
Short URL: http://www.africanexaminer.com/?p=22571