Police On War Path With Lagos State Government Over Removal Of Campaign Posters
Featured, Latest News, News From The State
Tuesday, January 6th, 2015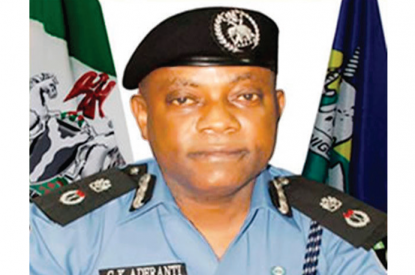 The Lagos State Signage and Advertisement Agency (LASAA), an establishment of Lagos state government has vowed to continue with its lawful business of removing illegally pasted posters within major roads and highways in Lagos.
The Commissioner of Police, Kayode Aderanti had warned staff of LASAA that the police would soon begin to arrest them for removing posters placed across the state.
But LASAA's Managing Director, George Noah calls the CP bluff, saying it must be a joke for him to think of arresting government staff for doing legal duties.
At a news conference in Lagos, Noah said the agency had published guidelines for deploying electoral materials in four national dailies in addition to a town hall meeting it convened with all the political parties where the guidelines were presented to them.
He said: "Let me state clearly that the removal of posters that deface our environment is a statutory obligation of LASAA. The agency is therefore baffled that the Nigerian police responsible for enforcing the laws of this nation is by the statement encouraging and expressly supporting the flagrant disregard and contravention of environmental guidelines issued to all political parties."
He frowned at the police for attempting to intimidate staff of the agency, saying that election materials not properly deployed or that which violates the agency's guidelines will be removed regardless of the threat.
He said he had on Monday held a meeting that lasted for about 15minutes with the CP, adding that in spite of the cordial discussion at the meeting, he was surprised at the tone of the CP's press conference where he categorically threatened to arrest the agency's staff.
"Commissioner of Police and I had a very cordial discussion and I tried to explain to him how we operate, but since their statement has been predesigned it did not matter what we discussed."
Noah urged politicians to be more creative in the way they go about creating awareness, adding that it will be surprising that it in the course of doing their job police will arrest staff.
Noah revealed that over 100,000 political posters are illegally deployed in the state on a daily basis, adding that removal of these materials has been based on fairness and equality among all stakeholders.
"Our guidelines have been issued without prejudice to any individual, political party, association or aspirant and our intention is to ensure fairness and equality among all concerned stakeholders while judiciously preserving the integrity of our environment and applying the rules without sentiment or bias."
Please follow and like us:
Short URL: http://www.africanexaminer.com/?p=21337