Police Promote Senior  Officers As IGP Orders Transfer Of Suspected Bomber To Abuja
Featured, Latest News
Tuesday, August 19th, 2014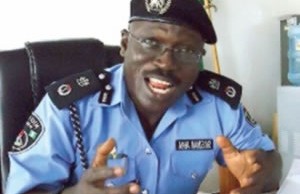 The Police Service Commission has approved promotion of some Force officers including six Assistant Inspectors General (AIGs) and two Commissioners (CPs) to the rank of Deputy Inspectors General of Police (DIGs).
Elevated to the rank of the AIGs were Dan'Azumi Job Doma, Mamman Ibrahim Tsafe, David Omojola, Solomon Arase, Christopher Katso and Salihu Hashidu, while Hilary Opara and Sotonye Wakama were promoted from the rank of CPs to DIGs.
The new promotions according to a press statement issued on Tuesday by an Assistant Director,Press and Public Relations, Ferdinand Ekpe were effective from today (August 19) 2014.
The Commission has equally re-affirmed its decision that promotions from the ranks of ACPs to AIGs would only be done after interview sessions with the affected officers.
The statement revealed that the commission approved the new elevation after its statutory sixth plenary which held last week within which aggrieved police officers were expected to forward complaints against punishment meted to them 30 days from the receipt of the decisions.
Former Inspector General of Police (IGP) and the Commission's Chairman, Sir Mike Okiro, enjoined the promoted officers to consider the promotion as an opportunity to serve, as well as implored them to use their "wealth of experience in uplifting the Nigeria Police Force".
Meanwhile, the Acting IGP, Suleimon Abba, has ordered the suspected physically challenged suicide insurgent apprehended on Monday after a failed blast attempt at the annex of the Nigerian Airspace Management Agency (NEMA), around old local of the Murtala Muhammed Airport Lagos, late Monday be transfered to the Federal Capital Territory (FCT), Abuja for investigations.
Please follow and like us:
Short URL: http://www.africanexaminer.com/?p=16458