Cameroon's Paul Biya Sacks Military Officers Over Growing Insecurity
Latest News, News, Politics
Wednesday, July 30th, 2014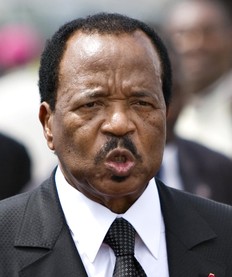 There has been a minor shakeup in the Cameroon's Military as President Paul Biya Wednesday dismissed two senior army officers – Col Youssa Gedeon and Lt-Col Justin Ngonga.
The State radio which announced the discharge gave no reasons for the President Biya's action. Still, the dismissal may not be unconnected with the President's anxiety over the security lapses that led to last Sunday abduction of Vice Prime Minister's, Amadou Ali's during an attack on the Northern town of Kolofata by the Nigerian Boko Haram insurgents.
The invasion resulted to killing of three people. Also, a religious leader and town's Mayor, Seini Boukar Lamine, was kidnapped in a separate attack on his household. The VPM himself escaped by whiskers as he was rallied by the security officials
Ali's wife was however rescued on Tuesday by the troops in a bloody operations which led to death of 16 people.
The sacked officers were in charge of military operations in Northern areas along the porous border with Nigeria according to President Biya, BBC reported.
Boko Haram members have attacked Cameroon three times within last week alone, with causality of about four Military men. The insurgents have previously kidnapped foreign nationals in the Northern Cameroon among of whom were a French family and Chinese workers.
Please follow and like us:
Short URL: http://www.africanexaminer.com/?p=15326