Recruitment: Reps Order NIS to Effect Employment of Stampede Victims Relatives  
Featured, Latest News, News
Tuesday, October 13th, 2015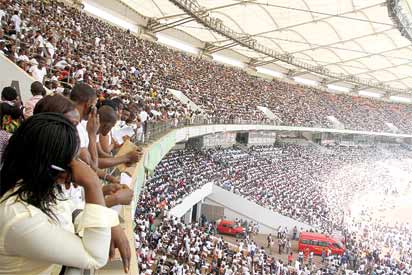 Ayodele Afolabi, Abuja

BALTIMORE, MD (AFRICAN EXAMINER) – The House of Representatives has mandated  the Nigeria Immigration Service NIS to give effect to the letters of employment issued to relatives of those that lost their lives as a result of stampede as well as the injured during last year's nationwide recruitment exercise.

The decision followed a public hearing put in place by the leadership of the House following protest by the relatives of the affected family.

President Goodluck Jonathan had in May 2014 directed that 3 members of families of those who lost their lives in the ill fated recruitment be given employment while those injured should be given one employment.

As a follow up, Jonathan gave symbolic letters to the families of the affected victims on May 2014.

However, Members of the House, especially the leadership expreesed shock to hear that the directive was not implemented by the bureaucrats.

The committee put together to resolve the logjam led by the House Leader and chairman Ad-hoc Committee on NIS 2014 Recruitment Exercise, Rep Femi Gbajabiamila met the Service and its Supervisory Ministry, Interior on why president Goodluck Jonathan's directive on the employment was not carried out to the latter.

Gbajabiamila after listening to explanations from the permanent secretary Min of InterIor Abubakar Magaji told him to ensure that the 75 people involved in the presidential directive for employment are made to report for duty immediately in line with the directive.

He added that the House of Reps would not take kindly to a presidential directive given in good faith to be flouted.

Earlier, Magaji had said it was not possible to absorb the beneficiaries of the presidential directive on the NIS because all there was to it was verbal instructions gotten on the pages of newspapers by the president without a written approval.

He said with such a scenario it was very difficult securing funds to pay their emoluments, adding that the Presidential Committee set up for the purpose did not carry the Board of Prisons, Immigration and Civil Defence Services along in the whole process.
Please follow and like us:
Short URL: http://www.africanexaminer.com/?p=26372