"Removal Of Lagos PDP Chairman Illegal"
Featured, Latest News, News From The State, Politics
Monday, May 11th, 2015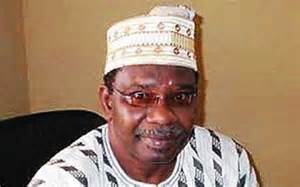 Ayo Balogun, Lagos – The Lagos State Chapter of Peoples Democratic Party (PDP) has described the purported sack of the State chairman, Tunji Shelle, as laughable, null and void.
A statement signed by the Publicity Secretary of the party, Taofik Gani said the party had thus impressed on the party members to discountenance the purported sack whilst also admonishing the brains behind the preposterous action to retrace their steps and allow peace to reign in the party.
"The PDP reiterates that the State Chairman leading the present state Executive Council has delivered the best unprecedented electoral result to the party members. It is therefore very irrational for any persons to provoke acrimony in the party by claiming that the State Chairman has not performed to warrant continuing in office.
"The party also faulted the modus operandi employed by the detractors which offends the provisions of the party's constitution on the sack of a State chairman. The State Chairman is a member of National Executive Council (NEC) and can only be removed or suspended by the consent of the NEC," the statement said.
According to the statement, there is no NEC approval to the action, saying "it thus stands, null and void. For sake of clarity, Capt. Tunji Shelle remains the legitimate chairman of PDP in the state. All dealings with the party in the State should be through him."
Also in an interview, Gani described the removal of Shelle as illegal, saying that the purported removal is causing serious acrimony in the party in Lagos State.
He said that the National Working Committee (NWC) of the party has discredited the removal Shelle. He said members of the executives gained entrance into the secretariat with the use of thugs and removed the chairman from office through illegal means.
According to him, those who removed Shelle did not follow due process and that as such, the removal cannot stand as the NWC of the party had denounced the purported removal.
"The National Working Committee of the party has discredited what they have done in removing the chairman from office. We are still in court over the election case in Lagos. Why are they in a rush?" he said.
Please follow and like us:
Short URL: http://www.africanexaminer.com/?p=23491