Rerun: Benue Groups Mount Pressure On Mark To Step Down
Featured, Latest News, News
Sunday, January 24th, 2016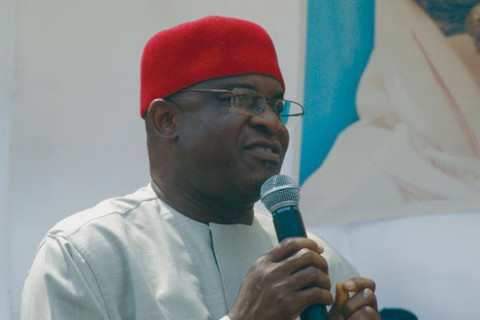 By Mustapha Abdul Salaam

Various pressure groups in Benue State, have demanded the sacked former Senate President, David Mark to step down from the rerun of the State's Southern Senatorial zone.
Mark, a three-term National Assembly Chairman was ousted by the ruling of a Court of Appeal sitting in Makurdi, which ordered that he should vacate his seat at the upper legislative Chamber as well as conduct of fresh poll.
The groups, numbering up to 10 and acting under the auspices of the United Idoma Citizens (UIC), in a statement they issued Sunday, by its Coordinator, Sunday Ogbe, declared it was time for the former Senate President, to step aside, having served as the political leader of the Idoma for 16 consecutive years since 1999, when the country return to democratic rule.
The group listed various abandoned projects embarked upon by Mark, which it mentioned included: the construction of Oweto Road, a dam in Otukpo and the University of Medical Sciences.
The group wondered why Mark has chosen to return to the Senate as a floor member, having served as the number three man in Nigeria for eight years.
"Mark's 16 years in the Senate is a complete disaster. His achievements were only seen on the pages of newspapers and blogs.
"As the number three man in the nation for eight years, his kinsmen back home had no portable water," the group alleged.
UIC accused that, the roads in Mark's constituency were in deplorable condition and those the Federal Government funded were not executed by his recommended contractors.
"It is sad, yet shameful, that Mark is asking for votes from Idoma people he betrayed.
"He has been using the creation of Apa State as a gimmick to hoodwink our people.
"He promised to use the last drop of his blood to create Apa State; now the story has changed" again the group alleged.
Also, the group indicted former Senate President, alleging that his style of politics was divisive of Idoma West versus Idoma North. It similarly accused Mark of supporting some Idoma elders, who asked the FG to sack the Chief of Defence Intelligence, Air Vice Marshal Riku Morgan.
The group thanked Senator for his 16 years of 'disservice' to Idomaland and requested that he should give way to the young and progressive candidate.
The latest demand came about a month after another 10 groups, under the aegis of the Conference of Idoma Pressure Groups, made the same demand to Mark.
Please follow and like us:
Short URL: http://www.africanexaminer.com/?p=29683