Residents Say B'Haram Still in Control of Michika, Bazza; Blast Military's Propaganda
Featured, Latest News, News From The State
Tuesday, September 16th, 2014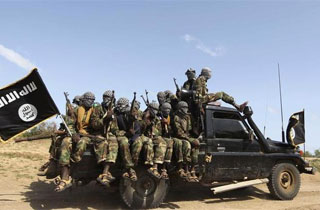 Agabus Pwanagba
Contrary to claims by Military authorities that they have chased out insurgents from Michika LGA in Adamawa State, residents of the area have insisted that Boko Haram have annexed the whole area.
Residents said both Michika and Bazza are yet to be recaptured by the Nigerian soldiers as widely speculated.
They stressed that the insurgents have maintained their siege on the two towns as they continue slaughtering people and raping women trapped in the towns while plundering properties.
A coalition of groups consisting of Christian Association of Nigeria (CAN) Michika chapter, Civil Servants Forum, The Northern Christian Elders Forum and Kamwe Christian Community Forum made the disclosure on Tuesday at a press briefing in Yola the State Capital.
Spokesman of the group Rev. Joel Billi, who doubles as the Chairman CAN Michika branch, said "the insinuation that the military have recaptured Michika and Bazza towns were blatant lies as the insurgents are still in control of Michika and Bazza towns.
"As at today Tuesday, 16th September 2014, Boko Haram is still in Michika riding on heavy motorcycles shooting the citizens ransacking and vandalizing resident's shops and looting while also plundering churches and Mosques.
"It is lamenting that the armed forces have been unable to contain them, flush and root out the insurgents who are raping our daughters and women.
"There are many people that were trapped on mountains mostly women and children are dying of hunger as the insurgents killed five 70 year old men who were sick and incapacitated and could not escape.
Billi added that "The town is now littered with corpses of slain people which are being feasted by vultures, pigs and dogs as there are no people to bury them.
The group commended hunters and vigilante groups who confronted the insurgents after realizing they were out of ammunitions and came down from the mountains repelling them with their bows, arrows and dane guns.
They lamented that the insurgents have indoctrinated and brainwashed some of the youth who now serve as informants for the insurgents.
The group called no the Federal Government to as a matter of urgency bring an end to the insurgency by rearming the Nigerian soldiers with adequate and modern weapons, otherwise they will subdue major parts of the country within a short time, citing how the insurgents swiftly captured Bazza and Michika within 45 minutes of invasion.
He urged Nigerians to see Boko Haram insurgency as a national calamity.
"Do not think that Boko Haram will not get to you because you are far away, no, they can get to you. Let us all team up to fight Boko Haram and report anyone harbouring, sponsoring and recruiting them.
"We have never had of a religion that encourages slaughtering people like rams.
"The insurgents have no conscience and they are wicked, callous and devilish and are not fighting on behalf of good Muslims. They are an abnormality who killed other Muslims mercilessly.
The group further stated that the insurgents can be defeated if everyone cooperates to fight this menace in the society.
"Leaving them unchecked may lead to the balkanization of the country and Nigeria may fail like Somalia and Rwanda". He warned
Please follow and like us:
Short URL: http://www.africanexaminer.com/?p=17527