Rival Soldiers Fight for Control of Burundi as President Nkurunziza's Plane Unable to Land
African News, Latest News, News
Thursday, May 14th, 2015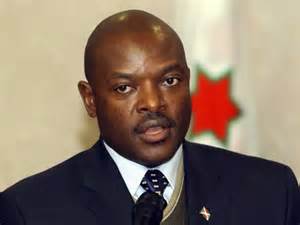 Confusion still ensues in the Bujumbura, the Burundian capital, just as the rival soldiers still battle for control, as controversies still trail the "overthrow" of President Pierre Nkurunziza's government, while his plane has been refused landing at the country's airport.
Following the stalemate, fighting broke Thursday around the state television station and Bujumbura airport, as the soldiers loyal to President Nkurunziza insisted he was still in charge.
The controversial coup was announced Wednesday by former intelligence Chief and ally of the President, Major Gen Godefroid Niyombare, while the embattled President had left for regional talks on the way forward to the crisis in Tanzania.
But overnight, the army Chief of Staff and a supporter of the President announced the coup "has been stopped" after talks with the Defence Minister, who backs the overthrow.
President Nkurunziza also in a tweet Thursday stated the situation was under control.
The Burundi political crisis was triggered by President Nkurunziza's declaration to run for third time, against the wish of the general public and international community.
Please follow and like us:
Short URL: http://www.africanexaminer.com/?p=23522