Rivers Rally: Praises Galore As Amaechi Celebrates Seven Years Of Stewardship
Featured, Latest News, News From The State
Saturday, October 25th, 2014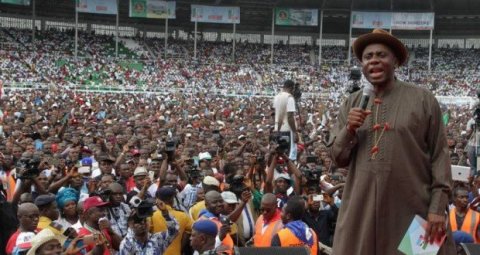 By Ayo Balogun
The venue was the 40,000-seater Adokiye Amiesimaka Stadium, Igwuruta-Ali constructed by Governor Chibuike Amaechi and the occasion was a solidarity convention with the them "Seven Years of Change We Can See."
The crowd trooped out massively to honour their action governor in which almost everyone who spoke at the occasion praised for his good stewardship since seven years that he assumed the leadership of the state.
The APC's presidential aspirants at the event were a former Head of State, Gen. Muhammadu Buhari Former Vice-President Atiku Abubakar; the Governor of Kano State, Musa Rabiu Kwankwaso; his Imo State counterpart, Rochas Okorocha and Sam Nda-Isaiah.
The event was also attended by the APC leader Bola Tinubu, APC chairman John Oyeigun, governors and lawmakers elected under the platform among other.
In his address, APC presidential aspirant and former head of state, General Buhari urged the people to vote for APC candidate in 2015 to ensure restoration of peace, security, good governance into the country.
While Former Vice President Atiku Abubakar told the people to continue to vote for APC if they want the Ameachi good work and progress to continue.
"Do you want the progress to continue? Do you want good roads? Do you want power? Do you want to feel the projects? Do you want to eradicate poverty? Do you want to go to good schools? Vote APC. Vote APC. Vote APC." Atiku stated.
Addressing the mammoth crowd, Governor Amaechi Governor criticised the president Jonathan and his administration for doing nothing in Rivers state.
His words: "They said the reason why the President is not performing in Rivers State is because he is quarrelling with the Governor of Rivers State. Okay, what is the quarrel between the Governor of Akwa Ibom State and the Governor of Cross River State that the roads from Akwa Ibom State to Cross River State is abandoned? Are they quarrelling too? It is more of lack of performance.
"When the President spoke in Benin, he spoke in a stadium that was less than 20,000-sitting capacity. When TAN held their rally in Port Harcourt, they held it at the 16,000 capacity Elekahia stadium and this was a South-south rally. The rally in Benin was South-south. The rally in Port Harcourt was South-south. This one (APC mega rally) is Port Harcourt rally.
"Do you remember Ebola? To show you how much the President hates us, he visited Lagos, did he visit Rivers State? He did not care. He wanted all of us to die, but I took it as a challenge and said none of us would die. Whatever it will take, I will do what I can by God's grace to protect Rivers people.
"Can you see our airport? The president lands at the airport. But see how we look like refugees. They say there is no light at the airport. What did we do to them? We gave him the highest votes in the country and the punishment we get for giving him the highest vote is operation nothing. So, APC is the solution to protect our interest. We must go there to vote out the PDP. It is not about our son.
"They tell you that you should not vote for these people, because they are Hausa people, they are Muslims, but the refinery in Rivers State was built and commissioned by Tafawa Balewa, he is a northerner.
"Shehu Shagari started NAFCON, Ibrahim Babangida commissioned it. IBB started the Eleme Petrochemical Company, Sani Abacha completed it. They are all northerners; they are all Muslims. NLNG was started and completed by Abacha and he is a northerner and a Muslim. Bonny NLNG, NDDC, Niger Delta Ministry were established by northerners.
"In fact, when Yar'Adua was alive, Niger Delta Ministry was working, now it is only one item: East-West Road, and they say he is our brother. He is not my brother. My brother is the man who delivers on his services for me. If the President says he is our brother, let him call one project his administration has embarked upon in Rivers State."
Amaechi also blasted the first day whom he said wanted to control the resources of Rivers but he rebuffed her even as he predicted her alliance with the former minster of state for education, Nyesome Wike to rule Rivers state will fail.
Speaking about Wike, Amaechi said: "I told the people of Rumuolumneni that we have awarded N1.5 billion for their internal roads and have also paid the indigenous contractor who is from the area the sum of N700 million. We said, Rivers money is for Rivers people, because they don't have capital. This man took the contract and gave it to a man who now wants to be governor.
"This man that is been backed by Mrs Jonathan gave N250 million to the indigenous contractor and disappeared with N450 million without constructing the road. And this is the man who wants to be governor, with billboards screaming the concept of 'New Vision'.
Please follow and like us:
Short URL: http://www.africanexaminer.com/?p=19115