Sanusi Relocates To Palace, "Apologises" To Jonathan
Featured, Latest News, News, Politics, Trending Stories
Friday, June 13th, 2014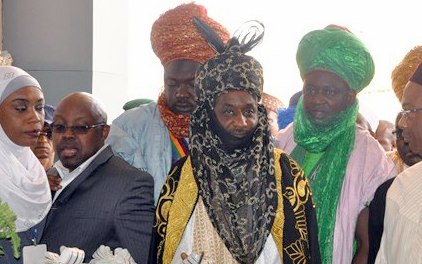 The new emir of Kano, HRH Sanusi Lamido Sanusi has finally moved to the Palace, a week after his appointment as Emir.
He was led to the palace by a retinue of armed policemen, palace guards, friends and other well-wishers.
The new emir was earlier prevented from gaining entry into the palace by security officials who were allegedly acting on instructions from Abuja. The journey to the palace began from the Kano State Government House, Kano, took place by 3.30 pm on Friday.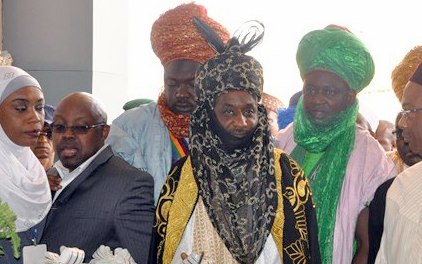 Sanusi drove into the palace in the official vehicles of the emirate via a newly constructed gate built in his honour in line with tradition.
He had led some of his subjects during Juma'at prayers at the state House where he admonished them to fear Allah and love one another.
The new emir also led other Muslims in late evening prayers inside the palace mosque after which dozens of his subjects watched in admiration as palace guards gave him traditional gun salute.
In his Friday sermon to the congregation, the new emir called on all Muslims to fear God in all their dealings.
Sanusi promised to be fair, just and transparent in the discharge of his responsibilities.
The new emir said that Allah gave power to whom he wanted and that he might not be the best among the candidates, but God had chosen him to lead.
Sanusi also appealed to Muslims to always return to God in time of difficulties for divine intervention.
The emir said "I urge Muslims to draw my attention to whatever wrong I have committed, for I know that to err is human, but to forgive is God."
Meanwhile, reports have it that the newly elected Emir begged President Goodluck Jonathan to forgive him of his trespasses before returning to the palace Friday.
PREMIUM TIMES reports that Sanusi Lamido Sanusi " shelved his public defiance and begged President Goodluck Jonathan, personally and through intermediaries, to lift police siege on his palace and forgive him his trespasses"
However, Police authorities denied neither the blockade nor  lifting of the siege on the palace  was on the instructions of the president.
Please follow and like us:
Short URL: http://www.africanexaminer.com/?p=12608