Saraki Clarifies Reasons For Senate's New Adjournment
Featured, Latest News, News
Friday, June 26th, 2015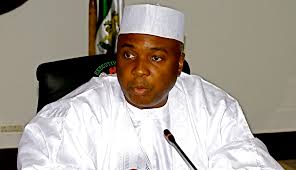 By Abdul Gaffar Bello – Apparently to set the record straight and clear misconception, Senate President, Bukola Saraki has clarified that the upper legislative chamber went on another recess, so as allow the just constituted Senate Ad-Hoc Committees on Legislative Agenda as well as review of its finances, enough time to carry out their assignments and make reports ready.
In a statement issued Friday from his office, Saraki confirmed that the Senate would reconvene before the adjourned date (July 21) to consider any matter of urgent national importance or attend to any national assignment that required its attention.
The Senate President, indicated "The Senate's Ad-hoc Committee on Financial review is the first time" upper legislative Chamber would set up a body to review its own salaries, allowances and the overhead cost of running, in order to realigning them to reflect the present economic situation in the country.
He disclosed that the cut in the Senate's 2015 budget from N150 to N120 Billion due to decline in the National revenue, was part of the National Assembly's (NASS) measures in view of the current economic situation in the country.
While promising prudence under his leadership, Saraki noted there was "need to project clarity, accountability and transparency in all legislative matters and legislators' welfare" adding that the 8th Senate under his watch recognized the concerns raised by Nigerians about the "cost of running office, most especially with the economic challenges facing our nation".
Senator Saraki also promised that there would be transparency, with respect to public funds spent for the purpose of paying salaries and allowances of legislators, as well as assured that there would be distinction between what a legislator actually earns and spends to run and implement legislative business and committee activities.
The NASS Chairman added: "The watchword in our financial issues will be fiscal conservatism" informing that the Senate committee was mandated to carry out thorough fiscal examination on its finances with the aim of coming up with the "best cost-effective" for the current upper chambers.
It would be recalled Saraki announced Thursday, adjournment of the Senate till Tuesday, July 2, 2015 after a stormy plenary, due to his refusal to honour the ruling party's nomination for the positions of the Senate Principal Officers.
Please follow and like us:
Short URL: http://www.africanexaminer.com/?p=24194