Saraki Says Geo Political Zones Must Contribute Equitably to GDP For National Stability
Business, Latest News
Wednesday, March 9th, 2016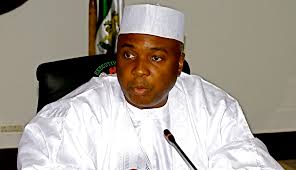 Ayodele Afolabi, Abuja

Senate President, Bukola Saraki on Wednesday appealed to all geopolitical zones in the country to contribute equitably to the nation's Gross Domestic Product (GDP) in order to ensure national stability.
Saraki made the appeal when the Chairman of the National Executive Council of the Arewa Consultative Forum (ACF), former Inspector General of Police, Dr. Ibrahim Coomassie led other executive members of the Forum to visit him in his office.
The Senate President said the only way for the North to contribute meaningfully to the growth of the nation's GDP and the diversification of the economy is for its leaders to methodically focus on mining and agriculture.
Saraki said: "My appeal is that in all countries that have gone through similar economic challenges like ours, recovery does not happen overnight. There will be initial pain but eventually the future will be bright. It is this journey that we should have embarked upon many years ago. We cannot run away from it.
"We cannot continue to depend only on oil. We must look at agriculture. Specifically for those of us from the North, agriculture is key. I also want to say that for the stability of any country, it is important that every part of the country is seen to be contributing to the economy of the country. A country where it is only one part that contributes to the economy is recipe for disaster.
"For the stability of this country, it is important that we from the North must play our own role to contribute significantly to the GDP of this country. It is then we come to the table on equal terms and then we will be able to ensure the stability of this country. The only way for us to make our contribution is to go back to mining and agriculture. We must talk to our people that it is time for handwork," he said.
He noted that the 8th National Assembly is already looking at laws to improve the business environment and address infrastructure deficit
Please follow and like us:
Short URL: http://www.africanexaminer.com/?p=30822