Senate Commences NDDC Probe, Wants Board Reconstituted
Featured, Latest News, News
Thursday, December 17th, 2015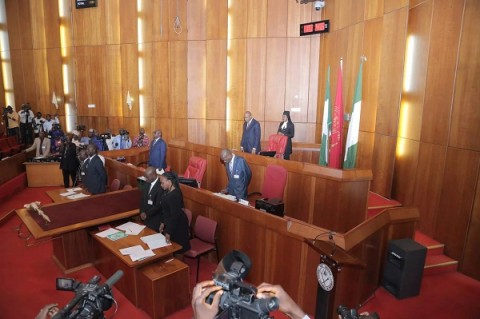 …Demands Sanctions Against Erring Firms On Gas Flaring
Ayodele Afolabi, Abuja
Senate has ordered full investigation into the activities of the Niger Delta Development Commission (NDDC), to ascertain the level of its impact in the oil communities in the South-South region of the country.
It also directed its Committee on Niger Delta Affairs to audit all development projects by the commission and ascertain if the value for money has been achieved so far.
Similarly, it urged the Federal Government to reconstitute "the NDDC board that will be truly committed to the achievement of government objective in the Niger Delta region".
The Senate resolutions followed a motion titled, "The Niger Delta Development Commission (NDDC) and Niger Delta Development", by Senator Matthew Urhoghide (PDP Edo South).
Presenting the motion, Senator Urhoghide said the commission was inaugurated on December 21, 2000 with a vision to offer lasting solution to socio-economic difficulties of the region, and a mission to facilitate its rapid, even and sustainable development.
He observed that since inception, NDDC has received several billions of naira from its funding sources, and as well constructed several roads, electrification, shore protection/jetty, classroom blocks, health centres and other development projects across the region.
He, however, added that "while this seems to be an impressive record, what is not clear is whether the funds received so far had been used wisely and effectively, what impact the projects have had in reducing the incidence, depth bad severity of poverty in the oil producing communities".
Senator Urhoghide lamented that "poverty still remains pervasive in the oil producing communities in spite of huge investment of government to alleviate the plight of these communities".
On another motion, "Gas flaring in Nigeria particularly in the Niger Delta region", sponsored by Senator Ighoyota Amori (PDP Delta Central), the Senate urged the government to urgently take drastic action against defaulting companies not just by payment of small fines.
While advocating that fines for defaulting oil companies should be increased, it urged them and other stakeholders to use alternative means of disposal like re-injection of waste gas into the ground for potential future harvesting.
The Senate also mandated its Committee on Gas to conduct an oversight visit to all affected states of the federation.
In his remarks, the Senate President, Bukola Saraki urged all oil companies to create with the government in finding a lasting solution to gas flaring in the country.

Short URL: http://www.africanexaminer.com/?p=28666