Senate Confirms Obanikoro As Minister Amidst Protests
Featured, Latest News, Nigeria 2015 Election
Wednesday, March 11th, 2015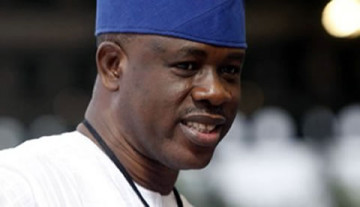 After two failed attempts, Senate Wednesday amidst protest disregarded the point of order raise by some of its members to approve Mr. Musiliu Obanikoro as a Minister designate.
Last week, Senate leadership session became rowdy as Senators debated whether Obanikoro should be allowed to enjoy the traditional "take a bow and go", privilege enjoyed by a former member of the upper legislative Chamber.
His appearance today generated another rowdy session as the opposition Senators, especially of the All Progressives Congress (APC) from Lagos and Ekiti States, raised point of order, which was declined by the Senate President, David Mark.
Eventually, when Obanikoro was asked to observe the take a bow and go, the APC legislators in the Chambers protested and staged a walk out.
Obanikoro's travails with the APC lawmakers bothered on his alleged involvement in the rigging plot of Saturday, June 21, 2014 (recorded on tape) of the Ekiti State Governorship election, which earned the incumbent Mr. Ayodele Fayose victory. He equally has a suit against him over dual citizenship.
President Goodluck Jonathan has declared the audiotape was fabricated, therefore would not call for its investigation, hence nominated him as a Minister in the midst of the ripples.
In the meantime, the opposition Senators have condemned the development and accused Senator Mark of partisanship.
At a press conference organized by them shortly after walking out and addressed by the Senate Minority Leader, George Akume Geroge, the protesting lawmakers, held there were laid down precedents in the case of a Taraba State Ministerial nominee, whose nomination was declined due to pending court case.
Senator Akume contended that Obanikoro's case who was accused of power abuse and other misconducts was not in any way different from Taraba's instance.
Please follow and like us:
Short URL: http://www.africanexaminer.com/?p=22655