Senate Kills Bill on Gender Equality, Describes it As Anti-Islam
Featured, Latest News, News
Tuesday, March 15th, 2016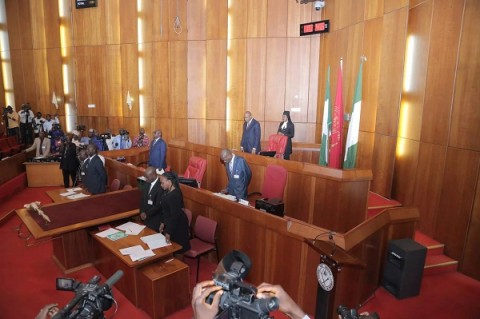 *Allocates N10bn for Resettlement of IDPs 
Ayodele Afolabi,  Abuja
Senate on Tuesday threw out a bill seeking to guarantee women's equal rights with men as senators mainly from the North vehemently opposed the bill, describing its as anti-Islam.
In her lead debate, before it was thrown out, the sponsor of the bill, Senator Biodun Olujimi (PDP Ekiti  South), said enabling women to have equal rights with men in marriages had become compelling in view of increasing discrimination against women in education and employment.
The bill also sought to eliminate discrimination against any person irrespective of his gender on any ground including sexual violence against women.
According to Olujinmi, gender discrimination often makes women insecure, denies them meaningful employment and exposes them to discrimination and exploitation.
She said: "The fact that disparity of gendered pricing still exists within today's society shows that women still continue to be disempowered in many aspects of economic life.
"It is also important that price differentials will have differing effects on women different cultural backgrounds and social standing thus affecting the economic empowerment of women in different ways.
"Equal rights for women in marriage, divorce and property and ownership and inheritance are essential for gender equality. The legal and social treatment of married women has been often discussed as a political issue from the 19th century onwards".
While the bill was supported by Deputy Senate President, Ike Ekweremadu, Senators Ibn Na'allah (Kebbi South) and Ibrahim Gobir (Sokoto East), a number of other senators from the North rejected it, saying it was both anti-lslamic and unconstitutional.
Opponents of the bill said its provisions were antithetical to a provision of the constitution which they said had already taken care of the fears being raised by Olujinmi.
According to them, the Sharia Court of Appeal which is enshrined in the constitution is empowered to address issues of discrimination against women as they insisted that initiating a new law to guarantee the equality of men and women would be a violation of the provision.
Some other senators also argued that attempting to grant women equal rights with men was in contradiction to both traditional and religious beliefs in Africa which stipulate that women should be submissive to men.
Efforts by the Senate President, Dr. Bukola Saraki, to save the bill failed as the bill was thrown out by majority of the senators through a voice vote.
The death of the bill yesterday marked the third time the bill would suffer such a cruel fate as it had been equally rejected by the sixth and seventh assemblies.
Also yesterday, the Senate directed its Committee on Appropriation to allocate N10 billion naira under service wide votes for the relocation and resettlement of the internally displaced persons (IDPs) returning home from IDP camps in Borno, Adamawa and Yobe states.
The parliament also urged the federal government to release grains from the strategic grain reserves to affected states. It also urged the National Emergency Management Agency (NEMA) as well as the Refugees' Commission to make special arrangement for the repatriation and resettlement of Nigerian refugees in Cameroon, Niger and Chad.
Please follow and like us:
Short URL: http://www.africanexaminer.com/?p=30950