Senate To Probe Those Behind Wase Massacre, Condemns Killing Of 87 People
Featured, Latest News
Wednesday, May 6th, 2015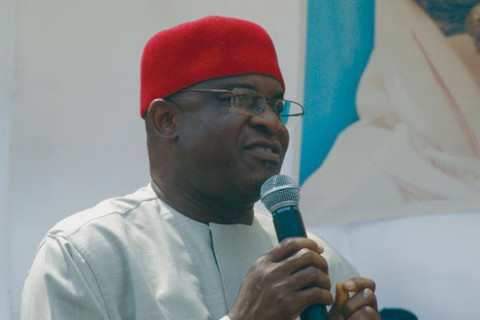 Ayodele Afolabi, Abuja – The Senate has condemned the recent killings in Kadarko, Wase Local Government of Plateau State which claimed 87 lives and displacement of over 20, 000 people by allegedly armed men wearing Nigerian Army uniform.
It has also mandated its committee on Defence,  to liaise with the military high authorities to unravel those behind the invasion and attack .
Senator Victor Lar, ( PDP Plateau South),  had through Order 43 of the Senate Standing Order under matter of urgent public importance, informed the Red Chamber that armed men wearing Nigerian army uniforms in 11 Hilux Vans and one truck invaded Kadarko district of Wase LGA on Saturday May 2.
He disclosed that the attackers sacked five villages, killed 87, wounded 100 with over 20,000 people displaced, adding that the immediate cause of the attack was not known as the men were suspected to be Boko Haram insurgents but they were wearing uniforms.
He said, " Their operations tended to imply they were not genuine Nigerian Army personnel. They used matches to hack down people, they shot at and killed women and children and they killed uniformed policemen and Civil Defence personnel.
"They burnt down every and any home within reach and used petrol to burn the bodies of the victims they killed with either matches or guns."
He added that  the action was a crime against humanity, and a gross violation of the provision of the Geneva Convention.
He therefore urged   the senate to condemn the act as barbaric and unacceptable, called the Committee of the senate to investigate the attack with a view to identifying the perpetrators and to call on the National Emergency Management Agency, NEMA, to send relief materials to the area.
The Deputy Senate President, Senator Ike Ekweremadu who presided over the plenary resolved that since true identity of those behind the attack had not been established, it was pertinent for the Committee on Defence to meet with the military high commanders so as to unravel it.
He sympathized with the people of Wase  in particular and Plateau State in general for the u fortunate incident .
He said: "Our prayer is that we should see to the end of this insurgency in any form whether is it the military, armed militia or insurgency or any form of attack on ordinary citizens.
"We condemn it and hope it will come to an end at the shortest possible time. Since we are sure whether this attack came from the Armed Forces or Insurgents or armed militia, let me quickly suggest that the Committee on Defense should contact the military high command to verify the identity of those who carried out this attack.
Please follow and like us:
Short URL: http://www.africanexaminer.com/?p=23441