Show Some Concern, Van Gaal!
Articles/Opinion, Featured, Latest News
Thursday, February 4th, 2016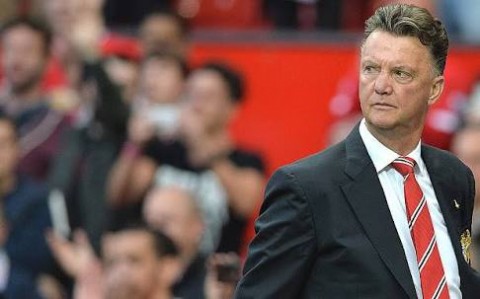 By Ridwan Adeola Yusuf
Van Gaal cannot convincingly declare that his inability to stand is due to age. What more? Van Gaal always stands in pre-match warm-up. Interestingly, Leicester's Ranieri, his mate, stands. Again, Chelsea's Hiddink is older (69 years), yet stands; same with Arsene Wenger, 66. Since the 1995 'karate kick' incident that prompted Van Gaal to desist from being a touchline Manager. And to worsen the matter, he has not really been at his best success-wise.
In his second stint with Barcelona, he was only able to guide the club to 12th place in La Liga (just three points above the relegation zone). After, he left. Sadly, he could not lead the Netherlands to the 2002 FIFA World Cup in Japan and Korea, meaning, 'The Oranje' failed to qualify for the world cup for the first time since 1986. Unfortunately, Van Gaal had to step down as Manager. At Bayern Munich, he was sacked! So, what huge achievement has his style (not shouting) really brought to him?
Van Gaal contends that he does not leave his chair "because my philosophy is that we have to prepare our players to play the match and when you are shouting on the sideline, there is nobody you can contact during the game-especially when we are home at Old Trafford." This mindset is wrong and 'faultable!' In a Champions League match at the San Siro against AC Milan, a stadium with more capacity than Old-Trafford, seconds after Paul Scholes equalized in an uncharacteristically poor Manchester United first-half display, the camera caught manager, Sir Alex Ferguson directing his fury towards the nearest defender to him, Jonny Evans for being part of a shaky defence. And the outcome was that "they settled and got very composed and got back to their normal game. The result was very different because of that," said Sir Ferguson. And Manchester United took a very important 3-2 lead to Old Trafford.
Borussia Monchengladbach's coach, Andre Schubert would not only yell on the touchline at his players to communicate one thing or the other, he goes to the extent of passing notes to one of his players in the course of the match, and the player then passes the coach's instruction to his teammates. Many times, this strategy work. In fact, it was deployed to defeat the mighty Bayern Munich this season. Little wonder, Pep Guardiola too had to copy the Gladbach's coach when Bayern faced a side that proved tough, Ingolstadt in December.
Football fans adore charismatic tacticians. LvG is not one. No football coach bark on the touchline as much as Diego Simeone. Even though, the Argentine did not win any silverware last season, soccer enthusiasts still cherish him for his ruggedness, doggedness, aggressiveness, tenacity and commitment. Fans admire coaches to be energetic, caring and passionate about the game. All these are lacking in LvG's personality.
Gus Poyet and Paolo Di Canio are not top-notch coaches, but any club side in any league in the world would still want to have them solely because of their athleticism. Chelsea FC fired Jose Mourinho due to poor performances; yet, he is held in high esteem and regard by the Stamford Bridge faithful because of his dramas on the field and in the press-room. Check the most successful coaches around now, they do not sit down through 90 minutes – Guardiola, Conte, Sampaoli, Enrique, et.al. For the future of Man U, show some concern Van Gaal Please!
Ridwan is a Youth Corps Member In Ilorin, Kwara State.
E-Mail: ridwanadeola@gmail.com
Please follow and like us:
Short URL: http://www.africanexaminer.com/?p=29957