Sports Editor Accuses Keshi Of Using Godfathers To Retain His Job
Latest News, News, Sports
Monday, October 13th, 2014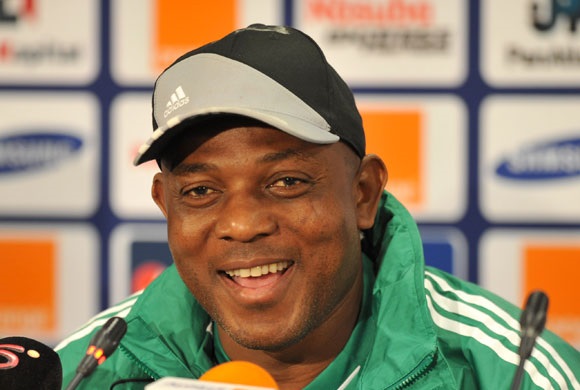 Oyewale Oyelola
Just as football loving Nigerians are expecting miracle to ensure qualification of Super Eagles of Nigeria for 2015 African Nations Cup in Morocco, a sports editor has accused Super Eagles Coach, Stephen Keshi of using his godfathers to keep his job at the expense of the country's interest.
The Sports Editor, Sun Newspaper, Mr. George Alue made this statement on Monday during a live television programme, Sunrise monitored on Channels Television, Lagos by our correspondent.
Alue said Keshi should have been sacked immediately after Nigeria's loss to Sudan, but that the former Togo coach's godfathers would not allow that to happen.
He noted that Keshi performed well before and during 2013 African Nations Cup won by the country in South Africa. H
Alue, however, added that the African champions have only managed to win two out of eight matches played after African Nations Cup.
According to him, "To me Stephen Keshi performed excellently well before and during 2013 African Nations Cup in South Africa. After the nations cup victory, Keshi allowed his personal ego to override in judgment as a coach.
"Look at what happen in build up to World Cup, if not for pressure from Nigerians, he was not willing take Osaze Odewinge to World Cup. Despite Osaze outstanding performance, Keshi still claimed the guy was not playing to instruction. I don't know his reason for dropping Sunday Mba and Ike Uche if not for personal ego.
"As a coach you must learn to tolerate your players despite their shortcomings to get good result. Baloteli Coach is accommodating his because he needs good result. How on earth would Barcelona put million of dollars on biting Suarez, because they know he can deliver."
Alue advised Keshi to quit as Super Eagles coach.
He added that Obafemi Martins should have made the qualifier list with his performance in American league.
Please follow and like us:
Short URL: http://www.africanexaminer.com/?p=18595