SPORTS: Rangers, Supporters' Club Declare War on Management; Demands Total Overhauling
Latest News, Sports
Tuesday, August 25th, 2015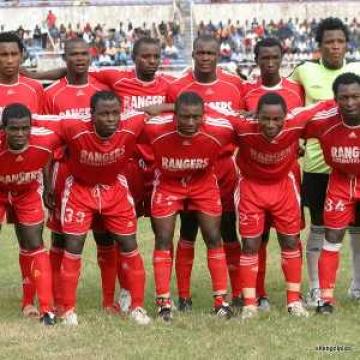 By Ignatius Okpara, Enugu – Irked by the perpetual abysmal performance of the Rangers International FC of Enugu, its supporters club, Tuesday took to the street to express their feelings about the development.
They called for the immediate dissolution of the club's management so as to make the Flying Antelopes a force to reckon with in the country's football.
Chairman of the supporter's club, Ibuchukwu Nwodo, told Sports Writers in Enugu during the group peaceful demonstration that "the management has failed severally and need to be dissolved and replaced with capable hands.
He said: "A simple rule states that; if something does not work, you try another thing else".
"If someone has been given a chance and he or she has failed again and again, you give somebody else that chance" Nwodo insisted.
"If there is one factor in a series of failure, you try to change that factor and where do this rules apply?
"I suggest it apply to the Rangers General Manager, Paul Chibuzor Ozor.
"Paul Ozor has monopolized Rangers as his family business with his associates, neglecting the Rangers board to establish himself an embodiment of failure.
"We will always like to maintain the status-quo, which makes Ndigbo see Rangers International Football Club as the' PRIDE OF NDIGBO," he said.
He equally said that the club has been transferring players all this while without been accounted for it.
"Players like Ejike Uzoenyi, Sunday Mbah, Chikeluba Ofoegbu, Osagona Ighodaro and the latest transfer of the Senegalese defender Piery Colly.
"Enugu state government need to probe the sponsorship of HARP deal to know what happened, why the management should not be carrying supporter's club along and why should they be acquiring majority of their players on loan.
"Paul in a simplest term has tried his best for Rangers FC, but we can see that his best was not enough; as we clamour for adjustment and total removal of Rangers FC management,' he declared.
The Chairman cited the case of the transfer of Mbah, in which the Warri Wolves media officer statement was published on paper on March 27, 2013.
"The club media officer, Moses Etu said that his club, Worri Wolves has paid N3.5m into a private account of Rangers top official in respect to the transfer of AFCON star Sunday Mbah.
"Etu said that the club actually paid the sum to the private account of the Rangers General Manager, Paul Chibuzor Ozor who instructed them to do so.
"The statement also revealed that the club has all the documents regarding to their dealings with Rangers in regards to Sunday Mbah transfer," Nwodo said.
Reacting, the Chairman House Committee on Youths, Sports and Security, in the State House of Assembly, Austin Obiji, advised the supporters' club to be peaceful in their demonstration.
He however, promised that their message would be delivered to the government, promising that Rangers would soon bounce back and return to where they belong in the country's football clubs.
Please follow and like us:
Short URL: http://www.africanexaminer.com/?p=25150