Super Ministers and Other Stories By Reuben Abati
Featured Contributors/Columnists, Latest News
Friday, November 13th, 2015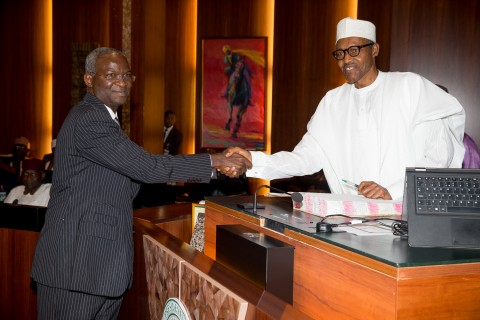 "Have you congratulated our new Ministers?"
"I am still thinking about it, actually. I don't know whether to congratulate them or to commiserate or to pity some of them. They have merged Ministries that need not be merged. Some Perm Secs are now floating. Six months and this is it?"
"What kind of talk is that? You have come again oh".
"I wonder too. At least you can see that round pegs have been put in round holes, and shame on all you doubting Thomases, our government is good to go."
""Who is talking politics? Can we discuss Nigeria and leave politics out of it? And please, leave that thing about pegs. Some pegs are neither round nor square, they are misshaped."
"Everything is political."
"I know. Very soon, you will also insist that that funny walking stick Ngige was carrying about, like the rod of Moses, is also political."
"Okay, what is your point?"
"I have said it before and I repeat it again. I still think whenever Ministers are to be screened by the Senate, their portfolios should be attached. It helps to prepare the prospective Minister mentally. It deepens the screening process, and makes it even more participatory."
"There is no such Constitutional requirement"
"Everything doesn't have to be in the Constitution".
"Okay we have heard. You have said it before. When next we are appointing Ministers, we will disclose their portfolios".
"What do you mean we?"
"Na we, now"
"Ehen"
"See, I usually don't vote. But this last election, I got my PVC and I voted. Those PDP people already had their cup full. I voted for change."
"Me too."
"But the campaign is over, and I see too many of you still locked in an election mode."
"Na so e be. As I dey sef, I dey wait for 2019. Na for Baba side I dey."
"This Baba syndrome is a problem. It is breeding a culture of mass sycophancy, hypnotism and amnesia"
"Grammar!"
"When you elevate a government to a semi-divine status, you lose sight of your responsibility to hold government accountable. The ascribed, contrived, or self-imposed divinity of elected officials is a threat to democracy"
"I think you should be holding this conversation with your brother, Patrick Obahiagbon, I beg. Simple matter, you want to give somebody headache. One of these days, I will arrange a meeting between you and the Igodomigodo. Any little talk, somebody must look for dictionary. You too dey show. Na only you?"
"Leave am make e dey yarn. People who have become Ministers have become Ministers."
"Look at it this way, I know one of those old Ministers. The day he was given a portfolio, a very important one at that, the guy said he didn't know what the Ministry was all about. I was shocked."
"Well, I am not shocked."
"He ended up creating problems."
"We know."
"So, what usually happens is that when a man takes a Ministry, he had no prior knowledge of, he spends the next six months trying to figure it out."
"That's why Baba has chosen experienced people who have been in government at senior levels."
"But one of them has said he is there to learn"
"Who is that?"
"You go and find out."
"If I may play the Devil's advocate, I think what the man means is that he is open to ideas. As human beings, we are always learning. At the retreat, the point was made clear that this is not a cabinet of learners, but drivers. People who are ready to move things forward."
"Were you there? Suppose they can't move anything."
"Someone told me. I have my contacts."
"You are just a bloody gossip. The truth is that some Ministers spend the whole time learning and moving nothing"
"I see noise-making has started already".
"We don't need noise. I want to see the change I asked for with my PVC."
"Fashola is the luckiest guy."
"Baba meta, himself."
"What is that?"
"Power, Works, Housing. The Holy Trinity of Government."
"E remain make dem add Finance."
"Fashola is mai mhe-en."
"I don't envy him. I actually sympathise with him. I hope he has not been set up for demystification and disambulation."
"Why don't you speak like a normal human being?"
"Those three key portfolios make him a Super Minister."
"They should just have named him Co-ordinating Minister of the Economy."
"No. We don't need that. Every Minister is important."
"Fashola in that assignment, I tell you, will need the services of a doctor, a massager, and prayer warriors"
"Don't worry yourself. The man will do it. He performed in Lagos. The moment he left, Lagos shut down. See how Ambode is struggling with Fashola's big shoes. It is just Fashola's wife that I pity."
"What has his wife got to do with this? Please."
"You don't know? This one that they have made him a Baba Meta; I swear, when next the man shoots straight, his wife go born triplets! One for Power, one for Works, and the other for …"
"Amaechi wife, na twins that one go born."
"Are you guys alright?"
"Wait oh, e be like say na only one Baba give Amaechi. Transportation."
"Na two. Transport not Transportation. Baba has added …ation for Aviation. Amaechi is in charge of Transport. He is in charge of Aviation, add the two: Transportation. Him na Baba Ibeji."
"With
control over 15
parastatals
/
agencies. God! You have his phone number?"
"No. I no get. But Baba didn't treat our brother, JFK well"
"He is in charge of Solid Minerals. That is a very strategic Ministry. It is like Agriculture. A developed Solid Minerals sector will further diversify the economy and increase non-oil revenue."
"But na only one they give am."
"Me, I thank God that he has a portfolio. I think PMB gave him Solid Minerals deliberately to please Fayose."
"What has Fayose got to do with this now?"
"Everything. You know he was the one who begged President Buhari to give Ekiti state, a solid ministry. He said Ekiti people don't want any yebuyebu Ministry but a very solid one."
"So?"
"So, the President has shown that he listens, and he has given the people of Ekiti State, the Ministry of Solid Minerals!"
"You are not okay."
"Ekiti is solid. Whatever Fayemi is able to do in that Ministry, his efforts will be appreciated. But as for Amaechi and Fashola, well…"
"Who is in charge of Niger Delta? That is another strategic Ministry"
"Na Pastor they put there oh. Pastor Uguru."
"Me, I just hope the man knows that that is not a Ministry where you go and chop guguru oh. It is an important portfolio."
"If Uguru likes, let him chop guguru. As long as he does not chop alone, and the people of the Niger Delta get enough popcorn too."
"But wait a moment, is that not the same Pastor who during the Ministerial screening swore that God forbids him having anything to do with PDP members?"
"He didn't swear. He said it."
"He will probably need a one-on-one retreat with President Buhari. This is a government of nobody and a government of everybody."
"Hey! Even our critics are beginning to quote us as if they are quoting the Bible. Patapata we go win again o, winner! "
"Just tell your Uguru that he is not an APC Minister, but a Minister of the Federal Republic, whose doors must be open to everyone."
"Hen, hen. Are you looking for contract already, or a consultancy? Do I give you the man's number?"
"I don't need his number. I am making commonsense"
"Oh, you want to become another Ben Bruce, the commonsense Senator? He goes about saying he is making commonsense."
"He is right. We need commonsense"
"We don't need commonsense. Too much commonsense caused all our problems. What we need is uncommon sense, to get rid of common nonsense. Tell him."
"Who is in charge of Finance?"
"That's the Ogun State Ministry"
"What do you mean Ogun State Ministry? I am asking you who is the new Super Minister in charge of our money?"
"She is from Ogun State. Kemi Adeosun; she speaks fone."
"I hope she won't become a Madame No."
"Madam what?"
"Nobody will try that with us. We will tell that person what to do"
"This is part of the problem with governance; too many people claiming to know what should be done. I don't remember PMB making you a Minister, adviser or errand boy. When these Ministers start failing, we will talk again."
"Leave us alone, I beg. It is our turn…"
Please follow and like us:
Short URL: http://www.africanexaminer.com/?p=27449