Sylva In The Eye Of The Storm
Articles/Opinion, Latest News
Thursday, July 23rd, 2015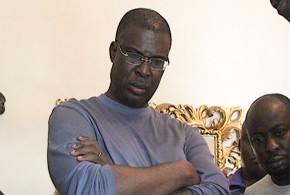 By Francis Sagbama – In sane climes, Chief Timipre Sylva, self- acclaimed opposition leader in Bayelsa State would bury his head in shame for putting Bayelsa, the glory of all lands in reverse gear for about five years. As governor of the littoral state between 2007 and 2012, a period characterized with oil boom, the Sylva administration impoverished the people, underdeveloped the state by plundering its resources and stifled dissent in a manner reminiscent of the Thomas Hobs' State of Nature. It was against this background that Bayelsans stopped Sylva's re-election bid in 2012.
But Nigeria is a contradiction where anything goes. Sylva who has been standing trial for multiple corruption charges and who indeed should have  long been in jail is now strutting the political landscape with exaggerated swagger, posturing sanctimoniously as a governorship candidate under the platform of the All Progressives Congress (APC). What a country!
I can beat my chest that if Sylva throws his hat into the governorship ring, he will kiss the ground the way he did on March 31 when Ben Bruce trounced him in the Bayelsa East senatorial contest. Already, the mainstream women and youth groups in the state, the clergy and Ijaw elders in Bayelsa have condemned the ambition of Sylva and the gale of defection of some Peoples' Democratic Party (PDP) members to APC, many of whom were aides, appointees and associates of Sylva. The groups have consequently led the charge in the re-election of Governor Henry Dickson. Tagged Operation Retain Dickson in Creek Haven campaign, the groups particularly the elders, clergy, women and youth organisations  said they must  return Dickson to government house to prove that there is reward for hard work and selfless service to fatherland.
At separate events, these groups endorsed the re-election of the Countryman Governor. Rising from an emergency meeting in Yenagoa last week, the elders led by the financial expert and political heavy weight, Chief Francis Duokpola cursed the APC and the PDP politicians defecting to the APC, describing them as vultures and a shame to the Ijaw nation. They wondered why a party that controversially wrested power from Dr. Jonathan, an Ijaw icon would be embraced by desperate politicians whom they describe as vultures and self-seeking. They vowed to stop APC from gaining root in Bayelsa State even as they declared; "The APC has declared war on the Ijaw nation. Right from the days of our forefathers, the Ijaws have never been conquered and our generation cannot be conquered by APC!"
Bayelsans are not in a hurry to forget how commissions of enquiries were capriciously set up by Sylva with the sole mandate of indicting his perceived opponents on phantom charges with a view to making them unfit for public office. The incumbent governor who was Commissioner of Justice and Attorney General of Bayelsa State under then governor, Dr. Goodluck Jonathan was principal victims of Sylva's despotism.
In 2008, precisely, less than 10 months after Sylva was elected as governor, he amongst other things, accused his predecessor, Jonathan of approving and releasing the sum of N150million for a Library project to the Ministry of Justice under the watch of Dickson as Commissioner. Sylva claimed that the money was diverted. The truth of the matter however, was that the contract was actually awarded but the money was not released before Jonathan's government wound up. The certified true copy of the handover note to Sylva which was made public contained this hard fact yet Sylva went ahead to waste public funds on a witchunting mission in the name of a commission of enquiries.  As usual, we, Bayelsans knew the facts. We stood behind Jonathan and Dickson. And they triumphed over their adversary while the commission fizzled out even before the Sylva days came to an ignominious end!
Curiously, it was a fact that under Sylva's watch, corruption walked with two legs untamed. Public funds were frittered and the state was turned into a private estate of a cabal led by Sylva such that only a microscopic few feasted on the collective wealth of Bayelsans. Many of the members of the Sylva-led cabal organized parties to celebrate their leap-frogging to the elite club of billionaires while the people on whose thighs, sovereignty lies, wallowed in abject poverty. In spite of the huge revenues accruing to the state, Bayelsa stagnated for almost five years under Sylva – no serious development in terms of infrastructure and human capital development took place. Yet Sylva took multiple loans which has ploughed the state into indebtedness of about N500billions. Indeed, under Sylva's stewardship his home, Nembe was inaccessible to motorists until recently when the restoration Governor, Dickson who is from Sagbama came to his rescue. Today, the same Sylva who is hoping to be governor on the crest of change can now travel by road to Nembe. Before now, he could only access Nembe the water ways. What a shame!
Ongoing projects initiated by the DSP Alamiesiegha and Jonathan administrations were abandoned by Sylva.  While public institutions were dilapidated and begging for attention, the Sylva administration used over N10billion monthly to run government house, Yenagoa.
Regrettably, Government failed in its cardinal responsibility of protecting lives and property. Crimes and criminalities were canonized. Cultists funded by government were on the prowl while Sylva's private security outfit code named, Famou Tangbe unleashed terror on innocent Bayelsans! According to the police, over 100 people were wasted by the dreaded group between 2008 and 2012.
After his inauguration in 2007, Sylva wasted no time in sending bulldozers to work at Azikoro road, Ekeki Yenagoa in the name of expansion. Houses and stores were destroyed and property owners were supposed to be paid compensations. The people allowed the state government to have its way since it was assumed to have carried out the demolition for their good. The affected traders and landlords held their breath and waited for compensation from government to no avail. Similarly, the expansion was abandoned by Sylva. It took the intervention of Governor Dickson for Azikoro road to be dualised and compensation paid in the face of dwindling revenue.
Not long after that, Sylva said he would create a central business district in Yenagoa. It was a bright idea but it was not implemented after over N5 billion had gone down the drain for site clearing. In the same vein, the then governor promised to construct 7,000 housing units at Ekeki Housing Estate, Phase II. His uncle's firm, Gefesco International Limited, was awarded N3billion contract for the clearing of the site. The job was haphazardly done and after one year, there was another round of clearing and money was paid again. Call it duplicity of contract.
Sylva told Bayelsans, time and again, that education remained a cardinal priority in his administration's policy. He promised to build model secondary schools in all the senatorial districts in the state. Parents who had primed their children to benefit from Sylva's illusionary dreams waited in vain. The Bayelsa State College of Arts and Science was shut throughout Sylva's reign until Dickson, re-branded, fortified and re-opened it.
Sylva said he was going to turn Epie Creek into a fish farm and released N3.5billion to consultants for the project. He said Bayelsa would produce 5million table fish for Nigeria. According to Sylva, a whooping N7billion was spent on the fish project which again, went down the drain. Not done, the governor went ahead and established a spurious N1.5 billion fish farm in front of the Okaka Housing Estate. That place would best have served as a recreation centre for residents and children in the estate. The fish farm is now sanctuary for frogs and other reptiles.
What about the white elephant project called Cargo Airport? Doife Ola, Sylva's spokesman said government as at 2011 had spent N10billion on the airport but what is on ground is not near the whopping amount. No wonder Mr. Mike Igini, former INEC Resident Electoral Commissioner for Cross Rivers State described Bayelsa under Sylva as a failed state.
The Sylva government claimed to have constructed 53 roads which again is contestable. These low quality roads put together are neither up to 53 nor up to 36 kilometres. How much has been spent, nobody knows but there was a lot of noise about these roads. But the Dickson government has done more roads, provided critical infrastructure such as an audacious and first ever flyover in Yenagoa, built many schools, Teachers Training Institute, Sports/ Football Academy, Catering/ Tourism Schools, built Ecumenical Centre, first of its kind-Traditional Rulers Secretariat, massive renovations of public facilities, built referral hospitals, built a world class diagnostic centre with a drug mart named after late Ptof. Dora Akunyili, created social security scheme for the aged, made education free and compulsory at Primary and Secondary levels while many Bayelsans and Ijaw citizens now are doing their post graduate and doctoral degrees on government scholarship in the best of schools abroad, all within three years. Yet we don't hear the kind of noise that greeted the so called 53 roads constructed by Sylva! Curiously too, these new roads they claimed are within Yenagoa. What happened to other parts of the state? What about the senatorial roads Sylva promised Bayelsans?  Aside the senatorial roads, Sylva promised to initiate and complete the following projects but reneged. They include the suspension bridge, the rail link to Port Harcourt, the super tunnel at Epie Creek, Bayelsa Oil Palm Project, Riverine Transport Services, the Yenagoa Marina, 53 inner roads, the 500-bed hospital, the Rice project, the Fishing Trawler and Company and still counting.
In the Dickson's new Bayelsa, transparency and accountability are the bedrock of the restoration government. Month after month, the governor organizes a highly interactive town hall meeting where all the accruals and expenditures of government are laid bare for public scrutiny. People ask the governor questions and he supplies answers. This experiment is the first of its kind in Nigeria and for the first time, the people are very proud to be called Bayelsans. Under Sylva, government business was shrouded in secrecy. So what has Sylva forgotten in government house? We are not in a hurry to leave the Promise land and return to Egypt, Sylva be warned!
In this era of credit crunch, Bayelsans do not need a spendthrift but a prudent and transparent governor that would continue to govern the state responsibly in the next four years, this Governor Dickson is already doing. His fiscal discipline is the reason why no public servant or pensioner is owed his take home and allowance in Bayelsa State even though the state's salary wage bill is bloated and second only to Lagos State. And we the ordinary people want to retain Dickson because no sane coach changes a winning team. The return of Sylva or his cohort means return of the days of the swarming locust!
Sagbama, a grass-roots politician and Public Affairs Analyst lives in Yenagoa
Please follow and like us:
Short URL: http://www.africanexaminer.com/?p=24544