Terrorism: DSS Confirms Arrest of 2 Suspected IS Commanders 
Featured, Latest News, News
Thursday, June 21st, 2018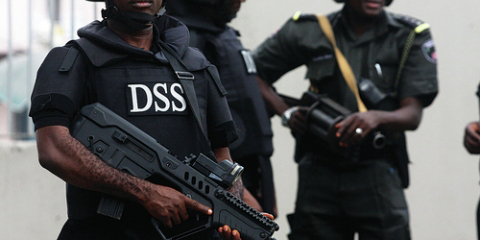 By Niyi Adeyi with Agency Report
ABUJA, NIGERIA (AFRICAN EXAMINER) – The Department of State Services (DSS) Thursday arrested two suspected Islamic State in West Africa (ISWA) commanders in Kukuntu village, Gwgwalada FCT Abuja. 
The suspects according to the security agency were: Bashiru Adams and Rufai Sajo. 
DSS also confirmed the recent arrest of different suspected terrorists and 'militia' herdsmen in different parts of the country, especially in the North central zone of the country. 
In a statement issued by its official, Mr. Tony Opuiyo, DSS said the new suspects were arrested May 5, 2018 after special operations on identified targets. 
The official added in a related operation carried out April 28, the service also arrested one Umar Dogo, a suspected member of ISWA at Muda Lawal market in Bauchi. 
Mr. Opuiyo disclosed that the suspects were discovered to have concluded plans to launch attack on the innocent persons in the area in collaboration with the suspected Boko Haram fighters. 
Following the intelligence reports, the official confirmed that two experts on Improvised Explosive Devices (IEDs), Adamu Hassan, aka Bale and Abubakr Abubakar aka Alhaji or Buba, were arrested. 
He explained that two other suspected members of Boko Haram,  Mohammed Saleh, aka Azrak and Iliyasu Abubakar,  aka Ruwa, were also arrested on April 12 and 19, 2018 at Gassol and Ardo Local Government Areas  of Taraba. 
Mr. Opuiyo said in furtherance to the service`s operation, two members of the dreaded Basalube kidnap group, Usman, aka Siddi and Ibrahim Muhammed, aka Ganaja, were arrested on June 17, 2018 at Karu village in Abuja. 
He stated that during one of the operations, one of the group`s notorious members, Tambaya Umar was arrested on April 24 at Odigie village, Ovia North East Local Government Area of Edo. 
Opuiyo said that Umar was arrested alongside Ibrahim Ali, Abubakar Mohammed, Aliyu Manu and Umar Mohammed for their complicity in the group's numerous criminal acts. 
The operative pointed out that on March 27, 2018 the service also arrested five members of a kidnap syndicate at Calabar. 
The suspects according included: Simeon Paul, Emmanuel Etim, Eric Out, Famous  Oleke and Felix  Eshet. 
He listed items recovered from them to include: one AK-47 Rifle, three empty AK-47 Magazines, 38 rounds of live ammunition, two live rounds of 9mm ammunition, one  Mossberg pump action rifle and 15 live cartridges of ammunition. 
Opuiyo added that between May 9 and 29, 2018, several associates of the dreaded kidnapper, Terwase Akwasa, aka, Ghana were also arrested at various locations in Benue. 
He revealed the during the operation, three suspects, Ada James, Tikaa Desmond and Joseph Ikpa were arrested with a Toyota Venza Sport Utility Vehicle. 
He indicated in another operation in Katibu village, Lau local government area of Taraba, a joint team of the service, military and police encountered 100 armed herdsmen, adding "during the confrontation, 10 herdsmen were killed and several others escaped with bullet wounds." 
He said that items recovered from them include: two AK-47 Rifles, one G3 rifle, three Dane guns, two cutlasses, and four motorcycles. 
The service he further also arrested suspects in connection with kidnapping and cultism across Nasarawa, Edo, Delta, Osun, Lagos, Kogi and Ondo states. 
With the arrest, Opuiyo stressed calm would return to the otherwise volatile areas where the criminals had held sway. 
"The Service is therefore poised to consolidate on these successes and bring about an atmosphere in which law abiding citizens will pursue their legitimate businesses'' Opuiyo restated. 
Following the recent security report on the move by the ISIS to use Nigeria, Lagos in particular as the training ground for terrorists, the Lagos State Governor, Mr. Akinwunmi Ambode has directed demolition of shanties across the state and their subsequent development, so as to check the actualization of the alleged plan.
Please follow and like us:
Short URL: http://www.africanexaminer.com/?p=44580