APC Unveils Campaign Team As Buhari, Amaechi Advocate For Change
Latest News, News, Nigeria 2015 Election, Politics
Tuesday, January 6th, 2015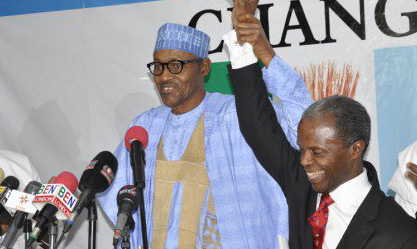 Against the backdrop of the country's forthcoming elections, APC Presidential candidate and former head of state, General Muhammadu Buhari (rtd) and the Director-General of Gen. Buhari Presidential Campaign and also Rivers State Governor, Rt. Hon. Chibuike Rotimi Amaechi have both spoken on the need for change in Nigeria.
Both leaders spoke on Tuesday at the APC presidential flag-off campaign for Gen. Buhari at the Adokiye Amiesimaka Stadium in Port Harcourt.
Buhari said he would transform Nigeria's ailing economy when elected and would provide jobs for the masses of Nigerians.
The APC Presidential Candidate also pledged to tackle insecurity in the North-East caused by the Boko Haram Sect.
"The fundamental issues facing this country is insecurity and the problem of economy which was being made worse by corruption.  I assure you that we are going to finally assemble a competent team of Nigerians to efficiently manage the country.  I am appealing to you, the damage done to this country is great.  The level of unemployment, level of insecurity is intolerable.  The journey has begun. It will take time, it will take patience, it will take support from you to make sure that we succeed", he said.
He thanked Governor Amaechi for taking up the offer of Director-General of his campaign organization and urged party supporters to pick their permanent voters' cards (PVCs) in preparation for voting in February.
Governor Amaechi who thrilled the audience to how God made him governor said change was necessary in the country.  He said change in Nigeria would come through the APC Presidential Candidate and called on APC supporters to vote for Buhari.
He also said he would stand by Rivers people in charting a course for the state's political future, stressing that he would not disappoint them.
"Today, I am governor by the grace of God. Today, I have stayed in office till 2015.  By this time last year, those who thought they were God thought we would have been out of office.  By this time last year, men had collected money to remove us from office but the God we worship never allowed it to happen.
"Now they are the people struggling.  We told them that there will be a time like this, when they will be looking for our votes.  Now I want to thank all of you and thank Rivers people for accepting to make me your governor.
"You will agree that when we came, we addressed insecurity.  You agree that in the past we could not have had our rally here.  We are gradually going back to that.  I hear today that members of APC from Asari-Toru local government area and from Khana were shot at on their way to this place.  The PDP believes in gun, we believe in God and man.  The argument we have put forward is that currently the government in power cannot protect you and I.  If the government could protect you and I, why were they shot at, who brought guns for those people who shot at our members?
"Today is not my day.  Today is the day of General Muhammadu Buhari and Prof. Osibanjo.  It's their turn to tell you what they will do for Nigerians.  All I will assure you is that as your governor, I will continue to stand by you".
Also speaking, Speaker of the House of Representatives, Alhaji Aminu Tambuwa explained why he defected from the ruling Peoples' Democratic Party (PDP) to the opposition All Progressives Congress (APC).
According to him, progress for Nigeria would come faster with the opposition APC than with the ruling PDP, noting that the Jonathan-led administration was not serious about government business.
"I am impressed by what I am seeing here today.  This is a clear testimony that Rivers and indeed the good people of Nigeria will come out en masse and overwhelmingly vote the candidates of the APC.
"When I defected to the APC, many people were surprised that how can I leave a ruling party to an opposition party.  On the privileged position of the Speaker of the House of Representatives that I presided over for three and half years, we oversighted the current government and what we saw and what we are still seeing is mind-boggling and from the information available to us, we don't deserve the current type of leadership that we have at the centre and Nigeria deserves better leadership as is by the grace of God and will be exemplified by General Muhammadu Buhari.  His records speak for him", he said.
Also before the presidential campaign flag-off, the APC unveiled its campaign team structure with Gen. Muhammadu Buhari as campaign chairman nationwide and his vice presidential running mate, Prof. Osibanjo as vice chairman.
Others include Rt. Hon. Chibuike Rotimi Amaechi as the Director-General of Gen. Buhari presidential campaign organization with two-deputy directors-general whose names were yet to be revealed at the time of going to press.
Others were a vice chairman for the North and South respectively with Zonal Coordinators who are APC State Governors across the country.
Dignitaries at the flag-off include Dr Chris Ngige, Nasir El-Rufai, Audu Ogbe, former Bayelsa State Governor, Chief Timipre Sylva, Abike Dabiri-Erewa, Chief Tony Momoh, other national leaders, party faithful and supporters.
 The Full List Of Buhari/Osinbajo Campaign Organization
Chairman: General Muhammadu Buhari
Alternate Chairman: Prof Yemi Osinbanjo
Deputy Chairman: Chief John Oyegun
Vice chairman North: Alh Atiku Abubakar
Vice Chairman South: Sen. Bola Tunubu
Secretary/ Director General: – Governor Chibuike Amaechi
 Council Members- Gen M. Buhari, Prof Y. Osinbanjo. Alh A. Abubakar, Mr. S.N Isaiah, Dr. S Jaja, Prince T. Momoh, Chief B. Akande, Chief O. Onu, Chief A. Ogbegie, Chief J. Oyegun, Alh M. Buni, Alh B. Gwagwarwa, Sen O. Izunaso, Sen L. Shuaibu, Chief S. Oni. Gov R. Amaechi, Gov R. Aregbesola, Gov B. Fashola, Gov T. Al Makura, Gov A. Wamakko, Gov. R Kwakwanso, Gov. I Geidam, Gov. K. Shettima, Gov. A. Oshiomhole, Gov. A. Ahmed, Gov A. Ajimobi, Gov I. Amosun, Gov. R. Okorocha, Gov. A Yari, Gov K. Fayemi, Chief O. Oyo kola, Sen Chris Ngige, Sen. A Ibrahim, Sen. K. Gaya, Sen. G Akume, Sen. B. Saraki, Sen A. Adamu, Prince A. Audi, Sen D. Goje, Sen A. Yarima, Alh K. Baraje, Hajia Ramatu Tijjani, Jasper Azutalam, Sharon Ikeazor, Hon A Dabiri Eruwa, Rt. Hon A Tambuwal, Hon F. Gbajabiamila, Hon Temi Harriman,
Deputy Director Operations: Sen O. Mamora
Deputy Director Coordination: Chief Audu Ogbeh
Zonal Coordinators: Comrade Adams Oshiomhole – South South
Ogbeni Rauf Aregbesola–South West
Senator Chris Ngige–South East
Alh Al Makura–North Central
Alh Kashim Shettima–North East
Gov Aliyu Wamakko–North West
Directors:
Media and Publicity: Garba Shehu
Admin & Finance: Hon Sokonte Davies
Contact & Mobilisation: Boss Mustapha
Election Planning & Monitoring: T. O. E Ekechi
Policy Research & Strategy: Dr. John Fayemi
Security: General Dambazau
Legal: Chukwuma Ume
Youth Mobilisation: Dasuki Jalo
Woman Mobilisation: Hajiya Ramatu Tijjani
Fund Raising: Babatunde Raji Fashola
Please follow and like us:
Short URL: http://www.africanexaminer.com/?p=21335