Thousands Protest In Lagos Over PVC Flop
Featured, Latest News
Monday, November 10th, 2014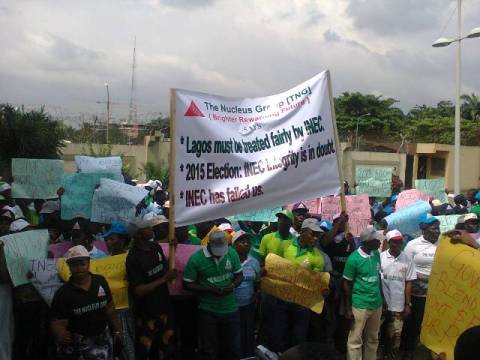 Thousands of aggrieved Lagos residents protested vehemently at the office of the Independent National Electoral Commission (INEC) and Governor Babatunde Fashola's office over failure of the umpire body to effectively distribute the Permanent Voter's Cards (PVC) across 11 Local Governments in Lagos, Nigeria.
Two different groups, under the aegis of Activists for Good Governance (AGG) and The Nucleus Group (TMG) stormed INEC's office on Monday morning with placards to protest shoddy distribution of the PVCs. AGG protesters came first before TMG stormed the office.
The protesters came to INEC's office around 10.00am with placards. The AGG carried placards with the inscriptions: "Jega, be warned, don't act FG;s script in Lagos," "We beg 'una' to give us our cards," "INEC, Agege demands more time for our PVC collection," "Please, our 1.4 million PVC cards," and "We Lagosians detest rigging, give us our PVCs.
" "Lagosians reaffirm one man, one woman, one vote, give us our PVCs, period "The totality of Agege Youth, women and men are demanding an extension for PVC collection," " We want free and fair election," and "All Nigerians are equal."
The TNG protesters were armed with placards. They read: "Lagosians cannot be intimidate, "INEC has disappointed Lagosians," "Stop all the colluding, give us 1.4 million registered PVCs," "Enough of your show of shame INEC, We need our PVC," and "Give us our PVCs now."
According to Comrade Declam Ihekaire, who spoke on behalf of AGG, Nigerians are afraid that INEC is planning to rig next year's election, especially in states controlled by the All Progressive Congress, APC, which informed the hoarding of the PVCs from getting to the people.
He said "2015 is here already and any attempt to disenfranchise Nigerians will mark the beginning of action. What we see is that INEC is short of staff and you are already being nicknamed as trying to rig the election next year," he told the INEC Resident Electoral Commissioner, REC, Lagos State.
"INEC must ensure the PVCs get to the people and they should not attempt to rig the election. Those in power know that there will be protest votes in 2015 and that is why they are trying to rig the election."
Also, a representative of TNG, Comrade Olusola Odubiro appealed to INEC to extend the exercise by two weeks so that all Lagosians would get their PVCs, while decrying the performance of INEC in the ongoing exercise, which he said had been so dismal.
He said the body is suspecting that INEC is trying to rig the election in favour of the ruling party.
Resident Electoral Commissioner, INEC, Lagos State, Mr Adekunle Ogunmola said the body was aware that there had been problem in the distribution of the PVCs, but assured that the body would ensure that everybody gets the PVC in Lagos as well ensured that those who could not get their cards were taking care of during the continuous registration exercise.
Please follow and like us:
Short URL: http://www.africanexaminer.com/?p=19542