Treason: Judge Withdraws From Kanu's Trial Over NJC Petition
Featured, Latest News, News
Monday, September 26th, 2016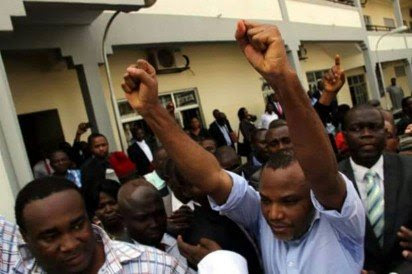 By Ganiyu Nasirudeen
ABUJA, NIGERIA (AFRICAN EXAMINER) – Justice John Tsoho of a Federal High Court has withdrawn from the alleged treason trial of the embattled leader of the Indigenous People of Biafra (IPOB) and Director of Radio Biafra, Mr. Nnamdi Kano.
The jurist's action followed a petition by Kanu's Counsel, Ifeanyi Ejiofor on him to the National Judicial Council (NJC). The petition bothered on alleged inconsistence in the rulings Justice Tsoho has given so far, on the accused and other applications before him.
Kanu's Lawyer cited Justice Tsoho's ruling in favour of the defence in an application for the protection of witnesses by the prosecution. Still, Ejiofor alleged he ruled in favour of the prosecution, without seeking the permission of a higher court.
This provoked lack of confidence and subsequently the petition to NJC.
After announcing his withdrawal Monday from the trial, due to the pending petition, Justice Tsoho also indicated that he would distance himself from the trial even if he was acquitted by the judicial body.
Prior to his announcement, another Counsel to Kanu, Mr. Chuks Muoma told the court that there would not be justice as a petition by a party in the suit, against the ruling Judge is still pending before NJC.
The petition which was made available to journalists in Abuja Sunday, by Kanu's Counsel demanded NJC to investigate justice Tsoho for giving contradicting rulings on the same application.
Justice Tsoho's withdrawal was the second, just as Justice Ahmed Mohammed of a Federal High Court in Abuja, also backed out of the trial in December 2015.
It would be recalled the accused Biafra agitator was arrested in a Lagos Hotel in October 2015, over alleged treason and operating an illegal radio station.
Please follow and like us:
Short URL: http://www.africanexaminer.com/?p=35706