Turkey Coup: Government Purges 13,000 Police With Links To Suspected Mastermind
Asia, Featured, Latest News, World News
Tuesday, October 4th, 2016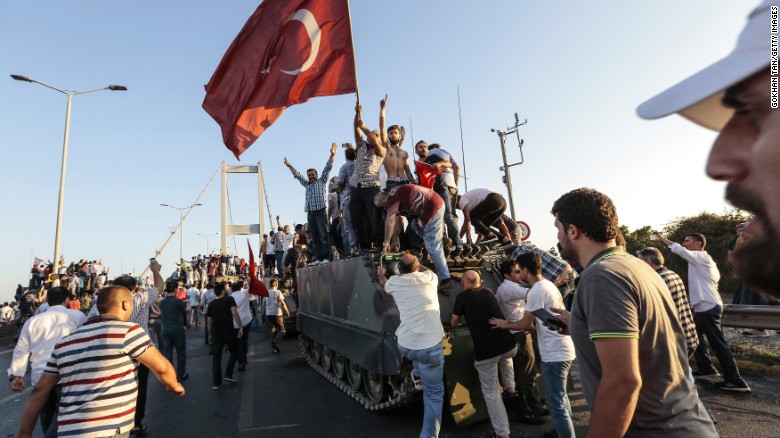 BALTIMORE, MD (AFRICAN EXAMINER) – The Turkish authority has suspended about 13,000 police officers who allegedly have links with the Turkish US-based Muslim cleric, Sheikh Fethullah Gulen.
Gulen is suspected to be the mastermind of Friday, July 15, 2016 Turkish failed coup attempt. The accused has however denied any wrongdoing; neither did he instigate his supporters to orchestrate the coup.
The latest purge is an addition to about 100,000 civil servants who have been previously, either dismissed or suspended since the failed coup.
In the same vein, the Turkish authorities have debunked claims that it was using the coup as an excuse to get rid of its oppositions, noting that those without proven links to the coup will be spared.
Over 2,500 officers, whose suspensions were announced Tuesday according to a statement credited to Police, were police chiefs.
The announcement was made shortly after the government disclosed that a state of emergency imposed
after the failed putsch would be extended by three months – now to last till October 19, 2016.
Emergency rule allows the President and cabinet to rule by decree, bypassing parliament when drafting new laws as well as able to restrict or suspend rights and freedoms.
Also in the purge, over 130 media outlets were shut down in July.
Turkish authorities have repeatedly appealed to the US to extradite Mr. Gulen, with the claims that the government has documents proving his involvement in the coup bid.
In contrary, Gulen's lawyer insists that the scholar had no involvement in the failed coup contending that he is suspecting would not have a fair trial if extradited to his homeland.
Please follow and like us:
Short URL: http://www.africanexaminer.com/?p=35863