Unpaid Salaries: Ebonyi state Appoints Ex- governor Sam Egwu To Resolve Crisis
Latest News, News, News From The State
Wednesday, July 22nd, 2015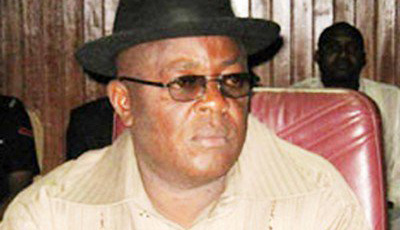 By IGNATIUS OKPARA, Abakaliki – Apparently worried by impending danger of workers industrial action, Ebonyi State Government on Tuesday set up a 35-man committee led by an ex- governor of the state, Senator Sam Egwu, to resolve the crisis between it and labour unions over the payment of backlog salaries.
The state Governor Dave Umahi, set up the committee during a stakeholders' forum he convened to streamline the state's financial position.
A statement by the governor's Chief Press Secretary CPS, Emma Anya, on the issue, said the development was for the betterment of the state workers.
The statement noted that the state's allocation had dropped to an abysmal level as a result of the drop in oil prices.
"We are not at war with our workers; in the next two years, we shall turn Ebonyi to a success story. We are evaluating the salaries of our civil servants. About 662 fake workers and 20 non-existent schools have been uncovered in the state.Schools are in a sorry state and we will do empirical evaluations of the schools and hand them over to the missionaries," Umahi was quoted as saying during the summit.
Umahi, said the drop in revenue demands that the state borrow an average of N500m every month to pay salaries.
The Governor however, promised to abide by the decisions of the committee.
According to him, it is strange for the labour Unions to compare the salary structure of other South-East states with that of Ebonyi.
In his reaction, the Nigeria Labour Congress Chairman in the state, Mr. Ikechukwu Nwafor, said though the workers were ready to make sacrifices, the payment of the existing 50 per cent salary structure would improve workers' welfare.
Senator Egwu, had urged the governor and the workers to work out modalities that would ensure an equitable compromise.
Hear him: "We have a very serious situation but I know Ebonyi indigenes will be ready to make sacrifices.
"The government has the responsibility of paying salaries and developing infrastructure and workers have a right to their wages.
" We, therefore, need to strike a balance the senator pleaded."
Please follow and like us:
Short URL: http://www.africanexaminer.com/?p=24531