UPN Denies Affiliation With Buhari, Jonathan, Fixes National Convention For January 10
Latest News, News, Nigeria 2015 Election
Thursday, January 8th, 2015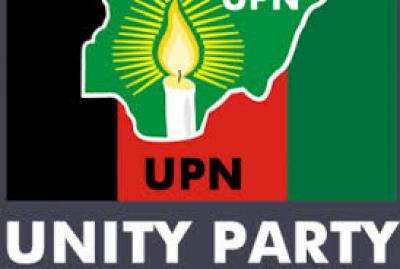 From Ganiyu Nasirudeen – The National Convention of the opposition Unity Party of Nigeria (UPN) has been slated for Sokoto, the Sokoto state capital between January 10 and 11 2015, amidst clarification that it had no affiliation with any political party.
UPN urged its members to ignore any contrary information that might come up from "political jobbers who are known to have promised" to 'deliver' the party to their paymasters.
"For the avoidance of doubt, the UPN is an independent party. It is not an affiliate of another party. Neither are we committed in any way to either the presidential candidate of the Peoples Democratic Party (President Goodluck Jonathan) or the All Progressives Congress (Gen. Muhammadu Buhari).
In a statement by its National Organizing Secretary, Dr. Ola Olateju, UPN confirmed its convention has been officially communicated to the Independent National Electoral Commission (INEC) by its National Executive Committee (NEC) through the National Secretary, Alhaji Abubakar Abdullahi Sokoto.
It indicated each Local Government Area shall be represented by one delegate in accordance with Article III Section 2.2 of the Party's constitution.
The statement revealed Members and Leaders of the party have been reminded that only the NEC could convene the National Convention in accordance with Article IV Section I.I of the UPN constitution.
"All arrangements have been made to ensure a hitch free National Convention in Sokoto as we await the nod of INEC.
"In case this does not come up before the date, the NEC meeting of the party shall hold in Sokoto on January 11, the opposition stated.
Please follow and like us:
Short URL: http://www.africanexaminer.com/?p=21415