US Advocates Peaceful 2015 General Elections
Featured, Latest News, News
Wednesday, April 9th, 2014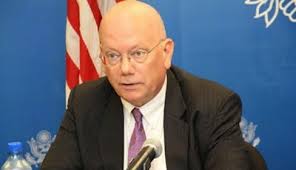 Kayode Adelowokan
The United States Ambassador to Nigeria, James F. Entwistle, has urged Nigerians to eschew violence  during or after the forthcoming 2015 general elections.
Entwistle said this during his first visit to Makurdi, capital of Benue State, which in his  continuing tour of northern part of the country to interact with the people, learn more about the security issues in the region, and to share the United States' wishes for peaceful elections, good governance, development opportunities, and a better future for Nigeria.
During the trip Ambassador Entwistle paid a courtesy call on Governor Gabriel Suswan and met with religious and community leaders.  He also paid a courtesy call on the Vice Chancellor of Benue State University, and interacted with students of the university.
In his comment, Ambassador Entwistle emphasized the importance of U.S.-Nigeria bilateral relationship in terms of trade and economics, democracy issues, partnering on shared security, and advancing access for all Nigerians to education and health resources. He said the 2015 elections will be an important test for Nigeria, and urged politicians, the media and individual Nigerians to make a pledge "that they will not advocate, support or condone violence before, during or after the elections."
He said, the United States will lend its support to Nigeria's efforts, but will not dictate to Nigeria.
The ambassador further said, "Nigeria has great potential.  Your diversity should be a source of strength, not strive.  People must learn to tolerate and get along with each other.  Across the globe, history has shown that countries that make progress are those whose communities live in peace with each other."
He said with the North's strong tradition of inter-faith cooperation, the United States will support efforts aimed at promoting tolerance, and assist both government and civil society to promote transparency and accountability, strengthen media, and support national and local elections.
Ambassador Entwistle toured two U.S. Government supported projects in Markurdi on health and agriculture.  He learned about the successes of USAID's technical support on HIV/AIDS to the General Hospital, North Bank, Makurdi.  He also learned about the progress and growth of the rice value chain being promoted by the MIKAP rice mill, working through USAID's MARKETS project, to stimulate commercial production and processing of rice in Benue State.
The ambassador will also visit Nasarawa and Plateau States as part of his tours in the Middle Belt.
Please follow and like us:
Short URL: http://www.africanexaminer.com/?p=9945