Uwazuruike Lambasts IPOB Leader  Kanu, Says He is a Fraudster
Latest News, News, News Across Nigeria, News From The State
Wednesday, January 11th, 2017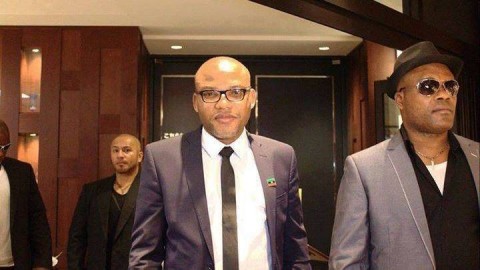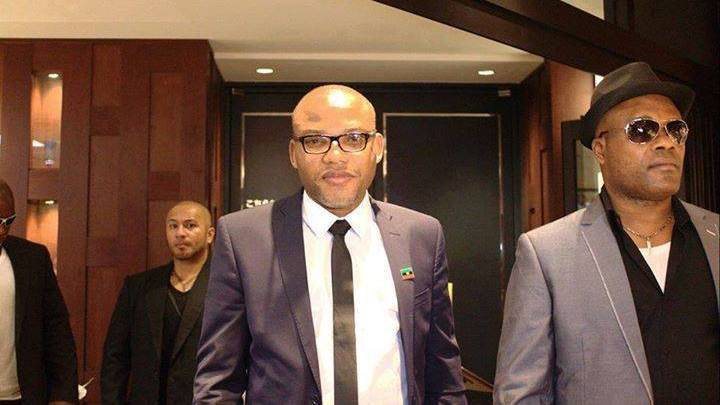 By IGNATIUS OKPARA, Enugu
BALTIMORE, MD (AFRICAN EXAMINER) – Enugu Nigeria,  (African Examiner) – Founder of the Movement for the Actualization of Sovereign State of Biafra (MASSOB), chief Ralph Uwazuruike has lambasted detained leader of the Indigenous People of Biafra (IPOB), Nnamdi Kanu, describing him as an "internet fraudster",who is not genuinely interested in the Biafran agitation.
He was reacting to speculation in some quarters that the president Mohammadu Buhari led federal government wants him (Uwazuruike) to testify against Kanu in secret.
The MASSOB helmsman, who spoke in Owerri, the Imo state capital, said he could do so openly if he wanted, insisting that the rumour holds no water.
African Examiner reports that the Kanu led IPOB, had recently through its publicity secretary Emma Powerful, claimed that Uwazuruike was promised oil wells by President Muhammadu Buhari's administration, if he helped in nailing Kanu.
A statement issued by the IPOB spokesman read thus: "Some unscrupulous elements in Biafra land are working with the Nigeria government and the DSS to hide under the screen to testify against Nnamdi Kanu,".
"IPOB intelligence unit across the country uncovered plans and names of those to be used by the federal government to testify against our leader Nnamdi Kanu.
"The Buhari government promised to allocate oil wells to Ralph Uwazuruike and his associates in crime against the leader of IPOB and Biafrans worldwide.
"To buttress our points, Raphael Uwazuruike and co were in contact with the DSS headquarters in Owerri and Abuja to perfect this heinous crime against humanity, but right now they are in Abuja to compliment the whole arrangements to testify against the People of Biafra and our leader."
However, Uwazuruike described the allegations as laughable, stressing that modern Biafra was his concept.
He said: "The allegations are idiotic, stupid and laughable.
"The modern Biafra is my product; I started it in 1999 and since that time I have been on with the struggle," the MASSOB chief stated.
"Our late leader, Odimegwu Ojukwu gave me the franchise and I am the leader of the Biafran struggle today any other person involved in the struggle is working on my behalf.
"When I founded MASSOB in 1999 and started the struggle for Biafra, no Igbo man could summon the courage to mention Biafra, it was then considered as a taboo, our people were cowards and could not mention Biafra until I started.
"When I started, nobody gave me a chance, I went through the hurdles alone, so Nnamdi Kanu is not the first Igbo to be tried for treason, I also stood before the same judge handling his case for the same charge of treason.
"He should face his trial like a freedom fighter and if need be die for the course."
Uwazuruike also claimed Kanu was "a nobody" when he picked him up in London, where he was "practising Internet fraud as his only means of livelihood".
"Kanu was homeless when I met him in London, I gave him the first money to rent an apartment after he was thrown out by the Ghanaian woman he was living with,".
"When I met him (Kanu) in London he had no job and no certificate, he was into internet crime, so who is Nnamdi Kanu, it is you the journalists that are flaming him up as somebody, if not he is a nobody.
"The struggle continues to be alive as long as I agree, even if Nnamdi Kanu dies today, the struggle continues.
" I cannot travel to Abuja to give evidence against Kanu masked, if I want to do that, I will testify against him in an open court, but I can't do that; what do I stand to gain" he asked.
Please follow and like us:
Short URL: http://www.africanexaminer.com/?p=37381