"We Worked For 10 Years To Win The World Cup" Joachim Low
Featured, Latest News, News, Sports
Monday, July 14th, 2014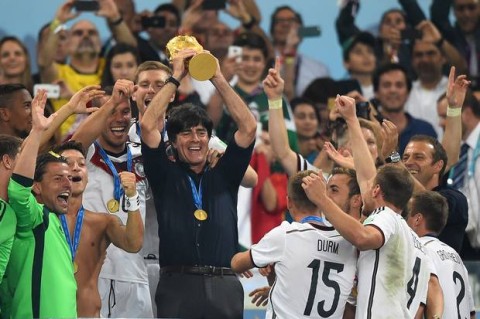 Germany coach Joachim Low says victory in Maracana showdown with Argentina is the culmination of a planned long-term project following a decade of international failure.
After falling behind Spain, eight  years of near misses and 14 years of foundational work following a dismal Euro 2000 in which they failed to win a game, Germany's transformation is now complete.
Joachim Low has been around for all of that and certainly felt the anguish of all those recent failures. After so many questions about whether his team had the character to replicate all the German winners of the past, he now knows what the most prestigious victory in football feels like.
He also knows how much has gone into it.
Low said: "We've been together now for 55 days,"
"We started this project 10 years ago, so this is the result of many years' work, beginning with Jurgen Klinsmann.
"We've continued that work and our strength has been our constant progress. We'd not made this ultimate step before but champions do what they will do.
"We believed we'd win it and we worked a lot to achieve it. If anyone deserves it, then this team with Bastian Schweinsteiger, Philipp Lahm, Lukas Podolski, Per Mertesacker, they deserve it."
The decisive moment Sunday night was almost a distillation of everything that German football has been about for the last decade. Gotze, one of their most vibrant young talents, absolutely maximised the ability which has been nurtured by the most sophisticated coaching structure in the world, ultimately providing true end product.
Low tried a little mind game when sending on the 24-year-old attacking midfielder after 88 minutes, as the manager revealed in his celebratory press conference.
"Okay, show the world you are better than Messi and that you can decide the World Cup," he told the young forward.
The latter part came true. The former obviously formed part of a managerial motivation but ended up at least becoming true on the night. Messi was not at his best in the Maracana and could have decided the game long before Gotze did. Shortly after half-time, he was presented with the opportunity to put Argentina 1-0 up, only to put the ball just wide of Manuel Neuer's post.
Please follow and like us:
Short URL: http://www.africanexaminer.com/?p=14346